Disposable coffee cup bans unnecessary, says manufacturer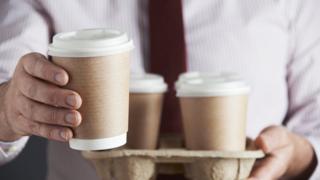 Governments need to make it easier to recycle disposable coffee cups instead of shunning them, a manufacturer has said.
The Scottish government has banned single-use cups in its main buildings.
The Welsh Government said it would scrap single-use plastics in its offices by 2021.
But Caerphilly-based manufacturer Paul Synott said bans were "unnecessary" and all UK-produced paper cups could be recycled with better infrastructure.
Mr Synott, managing director of Seda in Blackwood and spokesman for the Paper Cup Alliance (PCA), said despite public perception, "all paper cups produced in the UK can be recycled".
"It's a question of infrastructure – collecting cups and taking them to where they can be recycled."
More than 99.75% of disposable used cups in the UK do not get recycled.
Paper cups, which have a plastic lining to prevent liquid from soaking through, can only be recycled at five recycling facilities in the UK, based in Cumbria, Halifax, Leeds, Cornwall and Kent.
The PCA, which represents manufacturers, wants governments and councils to increase the number of bins to recycle paper cups and mechanisms to transport them to the processing facilities.
Why are 99.75% of coffee cups not recycled?

Boston Tea Party 'first' to ban disposable cups

Costa vows 'cup recycling revolution'
Mr Synott said Seda and Wales' other disposable cup manufacturer – Benders in Wrexham – employed more than 500 people directly and 250-300 people indirectly.
"Taxing paper cups or putting in incentives to reduce their consumption could cost jobs," he added.
He said paper cups were the best product in terms of food hygiene and convenience.
The Welsh Government was unable to confirm if plastic-lined coffee cups were used in its offices but said plastic straws, stirrers and cutlery were not used in canteens.
It said charging staff 25p per disposable bio-degradable coffee cup led to 75% of hot drinks in its canteens being sold in reusable cups.
A spokesman for the Welsh assembly said it scrapped plastic-lined paper coffee cups five years ago and staff and visitors were served hot drinks in ceramic cups.
The assembly is working to replace plastic drinking straws and single-use plastic water cups with compostable or recyclable alternatives by September, he added.
The National Library of Wales in Aberystwyth, Ceredigion, said it had moved to compostable cups while public bodies, including the Equality and Human Rights Commission, National Museums Wales, Estyn, Public Services Ombudsman for Wales and Children's Commissioner for Wales said staff and visitors used china mugs.
Sport Wales said it planned to offer a loyalty reward scheme to encourage staff and customers to bring reusable mugs.
Single-use plastic cups, straws and stirrers are banned on site at Hay Festival and it is trialling a system where reusable coffee cups are provided and can be dropped off in allocated bins to be washed and re-used.
The BBC said it would remove single-use plastic from its operations by 2020.