Diosdado Cabello ensures that Guaid ó it is arrested for entering Venezuela with "dangerous material"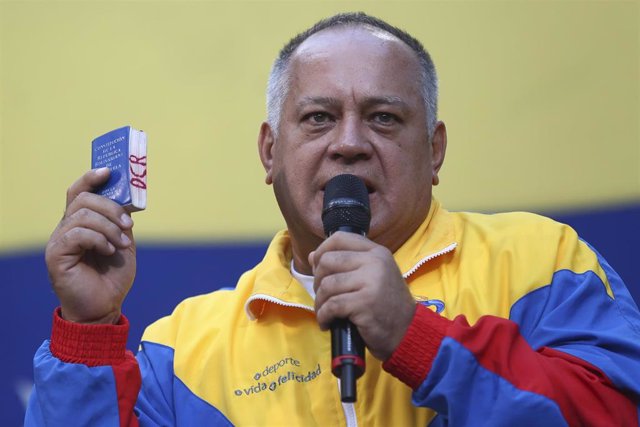 The president of the National Constituent Assembly (ANC) of Venezuela, Diosdado Cabello. – Pedro Ramses Mattey / dpa – Archive
MADRID, Feb. 13 (EUROPE PRESS) –
The president of the National Constituent Assembly (ANC) of Venezuela, Diosdado Cabello, said on Wednesday that Juan José Márquez, an uncle of the self-proclaimed "president in charge" of Venezuela, Juan Guaidó, is being held for entering with "very dangerous material" in the framework of the return of his nephew to the Caribbean country.
"He was arrested because he was carrying very dangerous material inside the plane," Cabello explained during his program, while ensuring that he "violated Civil Aeronautics standards" because "he entered with a bulletproof vest," which is "prohibited."
He has also specified that he carried flashlights that contained a C4 explosive inside. "Lantern with C4, Israel manual, accreditation of Juanito Alimaña in Canada and more substances", has continued.
On the other hand, he has specified that, even if he is Guaido's uncle, he will not be released. "No, that is uncle (…) and you have to let go. No. Not a thousand times and not from here and forward," he said. "What are they going to scream about? That they scream, but if this saves a Venezuelan's life, we are going to save her," he said.
Cabello's words come after Guaidó has again denounced the "disappearance" of Márquez. Specifically, the opposition leader has indicated that his uncle has been missing for 24 hours.
"I hold you responsible, usurper Nicolás Maduro, and each one of your minions in Maiquetía for what happens to Juan José Márquez, an honest and brave man who knows as nobody the value of this fight and his only problem is to worry about his family ", he has expressed through his Twitter account.
Márquez accompanied Guaidó on the tour that began on January 19 and ended on Tuesday to regain the international momentum he gained a year ago by proclaiming himself "president in charge" with the stated goal of overthrowing Nicolás Maduro.
He was traveling on the plane with which Guaidó landed in Maiquetía, in the middle of a strong security deployment and after the struggles between uniformed and opposition deputies when the latter tried to reach the capital's aerodrome to receive the "president in charge".
Márquez was able to make a call at 6:00 p.m. (local time) to report that he had been held by SENIAT to "give a statement of what he was wearing", but since then, the family has not heard from him.