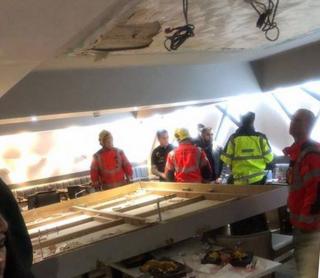 Five people were hurt when part of a restaurant ceiling fell on them as they dined beneath, police have said.
They were treated by paramedics at the Sizzling Palate restaurant in Bolton at about 22:30 BST on Saturday.
One customer, who did not want to be named, said diners were "shocked".
Diners hurt as ceiling collapses in Bolton restaurant
A spokesman for the Indian restaurant said it happened in the basement of the three-floor venue, which "continued to trade as normal".
He added: "A section of a suspended ceiling in the lower ground restaurant came loose from its fixing and dropped.
"A couple of customers sustained some minor cuts and bruising."
The customer said: "We were eating when all of a sudden it just fell.
"There was a table directly underneath and a table on the side, which were hit.
"People panicked, were shocked, had no idea what was happening so the men just got up and tried to lift the ceiling off people.
"There were a good 15-20 people that had to actually try and hold the ceiling up but… once people got out from underneath, they put it back on the table.
"Fire and police were there quite quickly, within five minutes."
The customer said one woman, who was wearing a neck restraint, had to be taken out on a stretcher.
A spokesman for the restaurant on Bradshawgate said: "One person was taken to hospital as a matter of precaution."