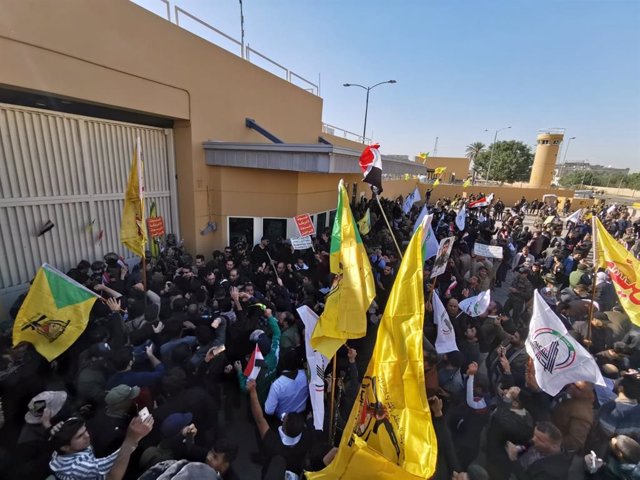 Protests before the US Embassy in Iraq – REUTERS / THAIER AL-SUDANI
BAGDAD, Dec. 31 (Reuters / EP) –
Thousands of protesters and militia leaders have gathered on Tuesday with the US Embassy in Iraq to protest against the air attacks against Kataib Hezbollah targets, a militia related to Iran, in recent days.
Some of those attending the rally have thrown stones at the diplomatic complex, while others have chanted slogans against the United States and its president, Donald Trump. Fires have also been recorded in the access area.
The leader of the Asaib Ahl al Haq group, Qais al Jazali, and other militia leaders have joined this mobilization, in which flags of Kataib Hezbollah have been waved as a gesture of support.
Special forces have deployed in the area to prevent any possible assault and have used tear gas to disperse protesters in the face of escalating tensions. The militiamen have also requested the dissolution of the concentration through loudspeakers.
Iraqi Foreign Ministry sources have confirmed that most of the embassy officials, including the ambassador, have been evacuated as a preventive measure, although part of the facilities security personnel remains inside.
Sunday's attacks, which resulted in 25 dead and 55 wounded militiamen, return to Iraq as the axis of the political pulse between the United States and Iran, at a time when the Arab country is shaken by a series of social mobilizations that keep the government of Adel Abdul Mahdi against the ropes.
Among the demands of the anti-government protesters are criticisms against the role played by militias such as Kataib Hezbollah as the livelihood of the Iraqi Executive.