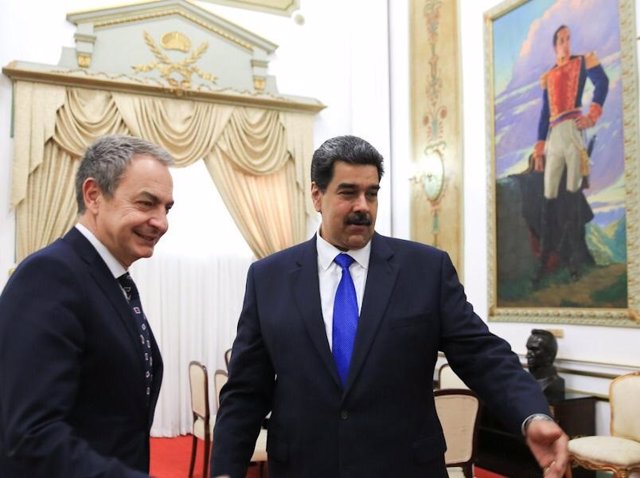 José Luis Rodríguez Zapatero and Nicolás Maduro – PRESIDENCY OF VENEZUELA
MADRID, Feb. 9 (EUROPE PRESS) –
The executive vice president of Venezuela, Delcy Rodríguez, highlighted on Saturday the "important efforts" of former President José Luis Rodríguez Zapatero for "democratic coexistence" in Veenezuela.
Delcy Rodr í guez thanks Zapatero's "important efforts" in Venezuela
Rodríguez explained that Zapatero during his visit to Venezuela has held a meeting with the members of the National Dialogue Table, in which the Government and the minority opposition participate. In this event they were grateful "for the important efforts he has made and continues to make for democratic coexistence in Venezuela."
The vice president said in the same vein that on Friday there was a meeting with Russian Foreign Minister Sergei Lavrov and stressed that there are sectors of the opposition that have political will and "are committed to a democratic and constitutional path to resolve the political differences. "
The purpose of this meeting was to unify criteria between the delegation of the minority opposition and that of the president, Nicolás Maduro, in order to advance solutions to solve the country's problems. The parties have already presented advances in political matters, in terms of release to prisoners deprived of liberty for political reasons and the process of designating the authorities of the National Electoral Council (CNE), among other issues.
Rodriguez has also referred to the US sanctions against Conviasa, the Venezuelan state airline. "They are not against a minister or official, it is an aggression against the Venezuelan people as a whole," he said.
These sanctions "are not against a minister or official, it is an aggression against the Venezuelan people as a whole," the vice president has argued.
The Spanish Government has clarified that Zapatero has made his trip to Caracas as a private citizen to hold a meeting with Venezuelan leaders who had no relationship with the official Spanish policy.
Since 2016, Zapatero has worked as a mediation that resulted in the release of some political prisoners but ended up failing in 2018 because most of the opposition perceived Spanish as a figure too shameful towards the Maduro regime.
Zapatero's visit took place in the middle of the controversy over the meeting held by the Spanish Minister of Transportation, José Luis Ábalos, with the Venezuelan Vice President at Madrid Barajas Airport. That event caused discomfort in the US Government, which said it had questions about the matter.
It also happened days after the visit of opposition leader Juan Guaidó to Spain, during which he was received by the Minister of Foreign Affairs, Arancha González Laya, but not by the chief executive, Pedro Sánchez.