Delcy Rodr í guez accuses Guaid ó to pursue their interests and to be a "traitor to the country"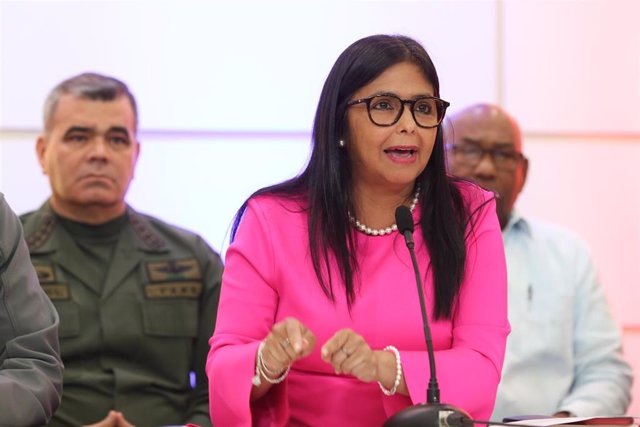 The vice president of Venezuela, Delcy Rodríguez. – Audio Valbuena / Venezuelan presid / DPA – Archive
MADRID, Feb. 17 (EUROPE PRESS) –
The vice president of Venezuela, Delcy Rodríguez, said on Sunday that opposition leader Juan Guaidó "has ceased to be a politician" to pursue his own interests, and recalled that "according to the Criminal Code" of the country the self-proclaimed president in charge "is an enemy of the country for being at the service of foreign governments. "
"It does not cease to give me some impression and grace to see how Guaidó has ceased to be a lot of politics and what he does is take advantage of to misappropriate the assets of Venezuela abroad," Rodriguez said during an interview broadcast on the television network Televen.
The vice president also recalled that "according to the Venezuelan Criminal Code, Guaidó is an enemy of the homeland", since, she said, she is "at the service of foreign governments", and "attentive to national interests and against territorial integrity" .
Rodriguez has insisted that Guaido is "an agent supported by foreign governments to undermine the sovereignty of Venezuela" and has criticized the opposition leader for serving the "failed imperial project" of US President Donald Trump.
On the other hand, Rodríguez has highlighted the role of the National Dialogue Table, which the Government and some sectors of the opposition sit down, since it has served to "expand democratic and coexistence positions", as well as make problems nationals, a matter of Venezuelans for whom it is not needed, he said, "no foreign interference."
"The dialogue is setting a political pattern; it allowed the change of the board of directors of the National Assembly, it has allowed to expand nationalist positions, expand democratic positions and coexistence positions, with differences but with respect," Rodríguez explained.
The vice president of Venezuela has asserted that the Mesa has achieved "that an opposition bloc rejects the imposition of coercive measures against the country," since they "know" that it is a "detriment to all."