Dejected military man who killed 21 people in a shopping center in Thailand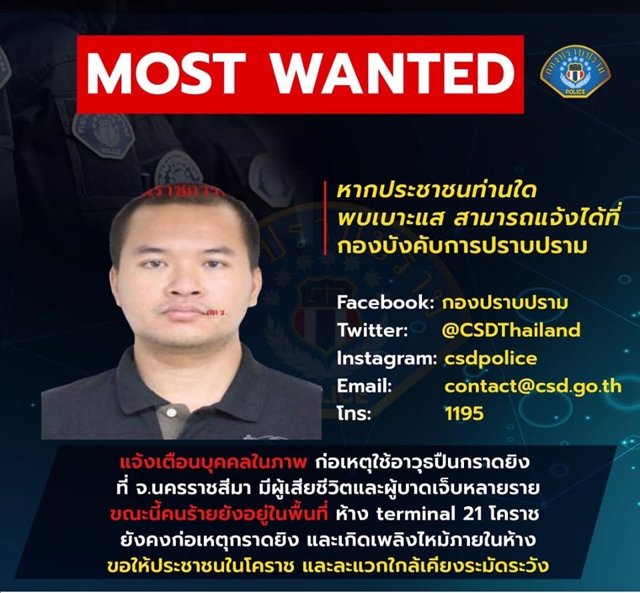 Jakkrapanth Thomma, alleged assailant of Terminal 21 shopping center – THAILAND POLICE
MADRID, Feb. 9 (EUROPE PRESS) –
The Thai Army sergeant who has killed 21 people in a shopping center in Thailand has been shot down by security forces, after entrenching himself at the facilities in the city of Nakhon Rachtasima (also known as Korat), in the northeast of the country .
Thus, the Police have ended the life of the military, as confirmed by the Chief of Police, Chakthip Chaijinda, and has collected the local newspaper 'The Nation'.
The Thai sergeant has killed 21 people, among which was one of the soldiers of the special forces who wanted to end the kidnapping, although after that, he managed to flee the premises.
A military spokesman, Lieutenant General Kongcheep Tantrawanit, had confirmed 20 dead late Saturday afternoon. As for the injured, there could be 31, some serious.
The individual has been identified as Sergeant Jakkrapanth Thomma, 32, who, according to the first investigations, stole weapons and ammunition from the Surathampithak military base, where he was stationed.
There he shot dead his commander, a civilian and another soldier before stealing an all-terrain armored Humvee armored vehicle with which he made an appearance at the Terminal 21 shopping center.
The murdered officer has been identified as Colonel Anantharot Krasae, with whom the sergeant starred in a previous dispute. The deceased civilian appears to be a 63-year-old woman, a relative of the colonel, possibly her mother-in-law.
He subsequently fled to a Buddhist temple where he killed or wounded several believers and then moved to the shopping center, where he opened fire indiscriminately in the parking lot and then entrenched himself within the commercial area of ​​Nakhon Rachtasima.
Once at the mall, "the individual used a machine gun and shot innocent victims. There are many dead and wounded," explained police spokesman Krissana Pattanacharoen.
After hours of tension, security forces were able to approach the place where the suspect is and urged him to surrender, but he responded with shouting and shooting. The operation however has allowed the evacuation of hundreds of people who were trapped in the mall.