Defiant UKIP leader Henry Bolton aims to 'drain the swamp'
Margot Parker has resigned as UKIP deputy leader and called for Henry Bolton to step down as leader.
The resignation came after the party's national executive committee backed a vote of no confidence.
Mr Bolton has left the party in "limbo" and he should go "sooner rather than later", she told BBC Radio Northampton.
The party's immigration spokesman, John Bickley, has also now quit his role. Mr Bolton has been under fire over texts sent by his former girlfriend.
Ms Parker, who is also an East Midlands MEP, said Mr Bolton's "personal life took over the job he was elected to do".
She added: "It would be quicker and cleaner if he came to the conclusion he could go sooner rather than later.
"This is taking time away from doing the job. This puts the party in a limbo situation."
Mr Bolton, who became leader of UKIP in September 2017, said he would defy the NEC and continue as leader, saying a contest would finish the party.
Party members will now be given a vote on whether the former Army officer should remain in post.
UKIP chairman Paul Oakden said Mr Bolton was "disappointed" by the NEC's decision but understood "that the party has a process to go through".
"Henry was offered the opportunity to resign but he has made clear that he feels he is the right man to lead the party forward," he added, after a three-hour emergency meeting on Sunday to decide his future.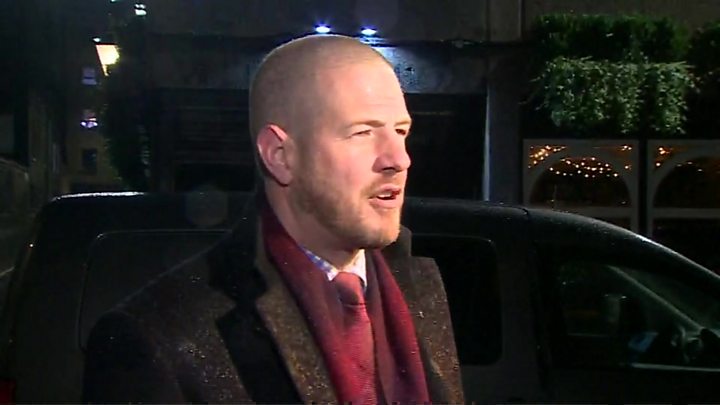 The committee does not have the power to remove him – that can only be done by a vote of the party's membership.
Mr Bolton had earlier toured TV and radio studios, saying the committee had no right to pass "moral" judgement on his private life.
He said he had ended the "romantic element" of his relationship with girlfriend Jo Marney after she sent texts saying Prince Harry's fiancee Meghan Markle would "taint" the Royal Family, leading to accusations of racism.
But he said he would "support her in rebuilding her life", which he said had been "turned on its head".
If the former army officer were to step down it would leave UKIP seeking its fifth leader in 18 months.
The 53-year-old party leader, who left his wife prior to his relationship with Ms Marney, 25, became public, said: "I don't believe I have done anything wrong.
"My own personal life, it's a little bit of a mess at the moment. I need to sort that out, of course."
UKIP said in a statement that, after a discussion of "recent press coverage" of the leader, "the committee took the decision to hold a vote of no confidence in the leadership of Henry Bolton".
It added: "The vote was carried unanimously, with the exception of the leader."
Under UKIP rules, an emergency general meeting must be staged within 28 days to endorse or reject the no confidence vote.
Members will be told about when and where it will be held in the next 10 days.
Senior figures have called on Mr Bolton – who won the leadership of the pro-Brexit party in October after a close-fought contest – to stand down to save the party.
Neil Hamilton, the party's leader in Wales, said: "He should now resign from UKIP immediately so we can get on with rebuilding the party without further distraction.
"If he forces us to hold an EGM, he will only humiliate himself further."
Gerard Batten, UKIP MEP for London, said Mr Bolton's position was "untenable" and that the controversy was "damaging" UKIP, and he offered to step in as interim leader.