Death in Paradise: Sun, sea and… murder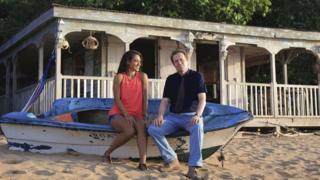 Sun, sea, sand… and murder. On the face of it, not a particularly attractive combination. But that's the winning recipe BBC One drama Death in Paradise has been serving up since it launched in 2011.
The crime drama is based in the fictional idyllic Caribbean island of Saint Marie (but filmed in Guadeloupe).
Each episode centres on a different murder mystery, which is ultimately solved by the island's lead detective inspector at the conclusion of each programme.
Ardal O'Hanlon has returned as DI Jack Mooney for the current series, having joined the cast early last year.
He took over from Kris Marshall, who played DI Humphrey Goodman for four years following Ben Miller's initial stint in the lead role as DI Richard Poole.
It's one of the most popular British TV shows, with average viewers regularly hovering around the eight and nine million mark – despite the fact the critics aren't always that kind.
So what's its enduring appeal?
Winter sunshine and cheer
Screenwriter and script consultant Edel Brosnan says there's a big contrast between most other current crime dramas and Death in Paradise.
"From the start, it bucked the trend, in a decade where crime dramas have been growing darker and darker – from the monochrome landscapes and colour palette of Scandinavian noir, to the nature of the crimes themselves – with a focus on serial killers and social anxiety.
"Death in Paradise takes its viewers somewhere else – where money can't buy happiness and cold-blooded murders take place on a tropical beach under a brilliantly blue sky. At the same time, it is a return to the classic drawing-room murder mystery, albeit set on a tropical veranda."
The Daily Star's TV critic Mike Ward agrees: "The beautiful island setting provides us with a nice bit of escapism, although I don't suppose Saint Marie's tourism brochures mention the endless killing!"
Armchair detective
In fact, it's probably the happiest crime series out there.
RadioTimes.com writer Eleanor Bley Griffiths says: "It helps that, for a show that starts each episode with a brutal murder, Death in Paradise is wonderfully cheerful.
"Each murder is so unlikely that it's more of a puzzle than a tragedy, inviting viewers to do some armchair detective work and guess who's guilty before the big reveal.
"Death in Paradise has such enduring appeal because you know exactly what you're getting – and it always delivers."
Characters and guest stars
Mike says: "There are plenty of high profile guest stars. Even if some of them only survive the first five minutes, it's still a nice gig for them, and hey, getting murdered means fewer lines to learn."
The list includes Car Share's Sian Gibson, former Doctor Who star Adjoa Andoh, Poldark's Richard Harrington and former EastEnder Paul Nicholls.
The comedic touch subtly employed by the actors in the lead role also attracts viewers.
Edel says: "Like David Jason in Touch of Frost, the lead actors in Death in Paradise tend to be better known for comedy, though they play it mostly straight in their role on the fictional island of Saint Marie."
Mike adds: "The writing strikes just the right balance between playfulness and old-fashioned murder mystery tension. The characters are engaging, with their own ongoing storylines."
Easy watch
Eleanor says that viewers like the show's certainty, explaining: "In a time of great political and social uncertainty, when you settle down on a grey winter's evening to watch Death in Paradise you know exactly what you're getting: a trip to the sunny Caribbean, an absurd murder case and a satisfying conclusion where the culprit will be handcuffed and marched away to face justice.
"Each week we meet a new set of brilliant actors playing jilted lovers and scheming stepsons and long-lost daughters, and each week DI Jack Mooney and his team pin their pictures to a whiteboard and track down clues and follow false leads and scratch their heads.
"Suddenly our top cop will have a brainwave, connect the dots and then gather all the suspects to announce who is guilty. It may be formulaic but who can beat a formula like this?"
Mike also believes people enjoy an easy watch, saying: "Each week's case is neatly and jolly conveniently wrapped up within the hour, meaning you don't have to get your head around some complex and confusing back story. What's not to love?"
Edel adds: "This is a show that 'plays fair' with the audience, and spurns fiendish or philosophical plot twists in the final act. In other words, pay close attention and you can solve the mystery."
---
Follow us on Facebook, on Twitter @BBCNewsEnts, or on Instagram at bbcnewsents. If you have a story suggestion email entertainment.news@bbc.co.uk.