Deadpool: David Beckham gets apology from superhero who mocked his voice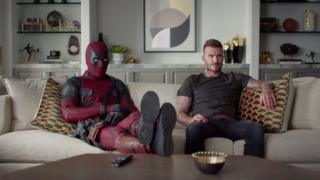 Deadpool has apologised to David Beckham after making a joke about him in his first film.
In the 2016 movie Deadpool, the superhero said the former England captain sounds like he's been sucking helium.
Ryan Reynolds turned up at Becks' house to make a very over the top apology in a clip promoting the sequel.
Becks did get his own back though, reeling off some films he thinks Ryan should apologise for instead.
Unlike the other Marvel superheroes, Deadpool is all about breaking the rules.
He's x-rated, he looks directly into the camera to speak to the audience, and he loves to have a laugh.
Beckham is just one of many to have been mocked by the character, but in the clips it appears to have got to the former footballer.
The video sees Becks watching the scene that mentions him in the first Deadpool film – and rewinding it to watch it again with an unimpressed look on his face.
It goes without saying that there will be some graphic language in the clip.
Deadpool clearly feels bad that David's feelings have been hurt and sends him a text message asking for forgiveness.
Then Deadpool turns up at Becks' door after the text is ignored – but milk and cookies, helium balloons and a mariachi band aren't enough to earn Beckham's forgiveness.
Tickets to a football match eventually do the job, with Beckham telling Deadpool: "I can't stay mad at you".
But then Becks gets a few digs in too.
Deadpool reminds him about the voice joke but David seemingly doesn't know what he's talking about.
"What did you think I was apologising for?" Deadpool asks.
"Green Lantern, R.I.P.D, Self/less, Blade: Trinity," Becks replies. Ouch.
Fans have been loving the promo from the two stars.
It's just the latest bit of marketing of the new film – including this rejection note from the Avengers.
The film is released in the UK on 15 May.
Follow Newsbeat on Instagram, Facebook and Twitter.
Listen to Newsbeat live at 12:45 and 17:45 every weekday on BBC Radio 1 and 1Xtra – if you miss us you can listen back here.