Deadpool 2: What the critics thought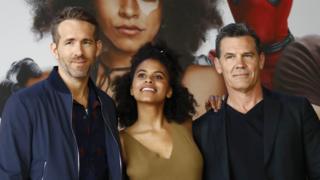 It's yet another Marvel superhero film – and this time, Ryan Reynolds' Wade Wilson is back with Deadpool 2.
The original film, an X-Men spin-off, was a huge hit in 2016, taking more than $780m (£575m) worldwide.
The film opens in the UK on Wednesday and critics have already given their verdict.
Many have welcomed the return of Reynolds' wise-cracking vigilante and his X-Force team, but it wasn't all five-star reviews.
Some felt that while the sequel stayed true to its predecessor's style of quickfire edgy jokes and send-ups of the superhero genre, it was starting to feel a bit cynical.
Writing in Variety, Andrew Barker said: "Lurking behind its constant self-critiques – pointing out plot holes before you can, acknowledging when its puckish humour edges toward racism but making the joke anyway – is a strange combination of cleverness and cowardice, a self-inoculation against the very responses it goes out of its way to provoke.
"No matter how far Deadpool 2 thinks it's pushing boundaries, it makes sure that even when a gag falls flat, the joke is always on you."
---
Analysis from Alex Taylor, entertainment reporter
The return of Deadpool is a welcome one. As blockbuster schedules become oversaturated with increasingly mediocre superhero films, its irreverence and parodying of the genre feels more necessarily cathartic than ever before.
Whether, underneath the ironic sheen, Deadpool 2 avoids the generic traits it persistently insults, is a different question.
Fortunately, it maintains the same, abrasive standard of jokes as the first film – cutting across disability, cancer, gender, sexuality and race. The movie also rips notable genre films to shreds, from Terminator to X Men (Deadpool forms his own team, X Force) and steals Professor Xavier's wheelchair to take it for a spin.
Personally I found the constant stream of irony and self-awareness a little forced and appreciated the darker, drier humour more but there's definitely enough there to appeal to a mainstream audience and superhero fans will love it.
---
Some others agreed.
The LA Times's Jen Yamato said there was a danger of "sequelitis".
"Even fuelled by Reynolds, whose likability is practically a super power… Deadpool 2 suffers from the sequelitis that typically threatens gimmicky gambles turned tentpole franchises.
"There's a tedium to the sort of repetition that merely rehashes and recycles the same wink-wink barbs that worked the first time around – but also a relatable, even pitiable humanity in the film's desperation to be liked."
AO Scott of the New York Times also felt a bit uneasy.
"What drives this franchise is the same force that drives so much culture and politics right now: the self-pity of a white man with a relentless need to be the centre of attention. He is angry, violent, disrespectful to everyone and everything, and at the same time thoroughly non-toxic and totally cool.
"Sure. Great. But there is something ever so slightly dishonest about this character, something false about the boundaries drawn around his sadism and his rage. Deadpool 2 dabbles in ugliness and transgression, but takes no real creative risks."
Digital Spy's Hugh Armitage largely enjoyed it.
"Deadpool 2 has as much heart as the original, and the humour is more consistent. And while we wondered whether Wade Wilson's brand of comedy had had its day, the series has moved with the times and feels as relevant and contemporary as it could be.
"If we have a criticism, it was that Deadpool 2 does fall foul of a couple of lazy tropes that we won't mention because, despite their utter predictability, they technically count as a spoiler. But it's hard to stay mad with so inclusive and good-natured a movie."
Many other reviewers were delighted with the sequel.
John DeFore in the Hollywood Reporter wrote: "There's action aplenty throughout the film, but Deadpool 2 doesn't bog down in it as many overcooked comic-book sequels do.
"The filmmakers walk a fine line between embracing Deadpool's mock-everything appeal and needing to make Wade a credible, emotional human."
USA Today's Brian Truitt described the movie as "hilariously self-aware and satisfying on multiple levels", giving it three stars out of four.
He added that the film "continues the relentless lampooning and scattershot jokes of the first movie, but pulls together a much better story".
The Rolling Stone's Peter Travers wrote that "despite a tendency toward elephantitis in story and scope, not to mention blatant franchise pandering, Deadpool 2 still plays like the runt of the comic-book litter. We mean that as a compliment.
"Deadpool 2 throws everything it has at you until you throw your arms up in happy surrender. Like its predecessor, the sequel is a grab-bag of humour, sorrow, sensation and silliness. None of it should work – but it does like gangbusters, creating a sequel that will blow you away with nonstop action and hardcore haha."
The Guardian's Steve Rose felt uncomfortable with the treatment of BAME actors in the film.
"(A) major weakness is its continued foregrounding of the white guys at the expense of the consciously inclusive cast around them. Only Brolin's Cable gets anything resembling a fleshed-out character.
"Worst of all is Karan Soni's taxi driver Dopinder, a weedy, emasculated Indian stereotype whose superhero aspirations make him the beta-male butt of the joke. Looks as if the writers haven't got up to speed with The Simpson's Apu controversy.
"Such concerns might not bother Deadpool 2's core audience too much, but they implicitly suggest that core audience is white and male, and that everybody else ought to just lighten up.
"It's easy to do so, given Reynolds' undiminished charm, and the generous flow of weapons-grade gags. But now that it's no longer the underdog, Deadpool is in severe danger of punching down rather than up."
Other critics pointed out that it should please fans of the first film but may not attract new audiences.
John Nugent of Empire, wrote: "It's fair to say if you didn't get on with the first film's always-winking comedy and unheroic bloody violence, you probably won't find much solace this time around.
"But if you're on board for the ride, Deadpool 2 is more entertaining than ever. Plus, it remains a refreshing superheroic counterpoint to the likes of Avengers: Infinity War or Justice League.
The Telegraph's Helen O'Hara agreed.
"With its commitment to gross-out injuries, pop culture in-jokes and inappropriate touching, Deadpool 2 was clearly made to cater to existing fans with every innuendo-filed moment," she said.
"This film makes zero concession for newcomers or sceptics, and those of a genteel disposition should avoid it like the plague."
Screen Daily's Fionnuala Halligan wrote: "While Deadpool 2 delivers the gags and the gun-shot geeky Marvel insider references, the plot could have done with some more finesse… If Superhero fatigue is ever going to set in (which seems alternatively inevitable and unlikely), it's going to be here.
Perhaps Alonso Duralde of The Wrap sums his thoughts up best.
"Does Deadpool 2 pick up its predecessor's baton and run off to new and exciting places? Not really. Is it as tasty as leftovers on the second day? Absolutely. Temper your expectations accordingly."
---
Follow us on Facebook, on Twitter @BBCNewsEnts, or on Instagram at bbcnewsents. If you have a story suggestion email entertainment.news@bbc.co.uk.