Davide Astori death: Prosecutors open investigation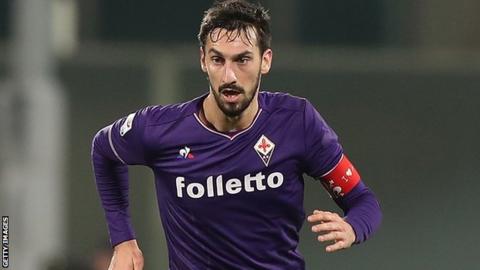 Prosecutors have opened a routine investigation into the death of Fiorentina captain and Italy international Davide Astori.
The defender died on Sunday at the age of 31 following a "sudden illness".
Udine chief prosecutor Antonio De Nicolo said he had opened a "culpable homicide" inquiry – a routine move before an autopsy in Italy.
"It permits us to individualise responsibility if there is any," he said.
'Davide Astori's death leaves Fiorentina and Italy in state of shock'
"An inquiry has been opened for culpable homicide against persons unknown.
"It is a duty to ascertain if the death of Astori came about through tragic fatality or if someone could have foreseen something.
"At this moment no one has responsibility for anything."
Fiorentina say Astori's autospy will take place on Tuesday and his body will be taken to Florence on Wednesday before his funeral on Thursday.
Fiorentina were scheduled to play Udinese in Serie A on Sunday afternoon but news of Astori's death led to all Serie A games being called off.
Police said Astori was found in his hotel room on Sunday morning.
Astori, capped 14 times by Italy, joined Fiorentina in 2016 from Cagliari and had made 58 appearances for them.
He is is survived by a long-term partner and two-year-old daughter,