Darts player denies coughing to distract rival
Footage showed Justin Pipe coughing heavily as Bernie Smith, his unseeded rival, threw his darts.
The 27th seed went on to win the match, meaning he will now go forward to play the retiring Phil Taylor.
After the video emerged, Sky Sports pundit and former World Championship semi-finalist Wayne Mardle said: "It looks absolutely despicable behaviour by a professional darts player.
"Every time I see it, I think to myself, 'How desperate are you?"'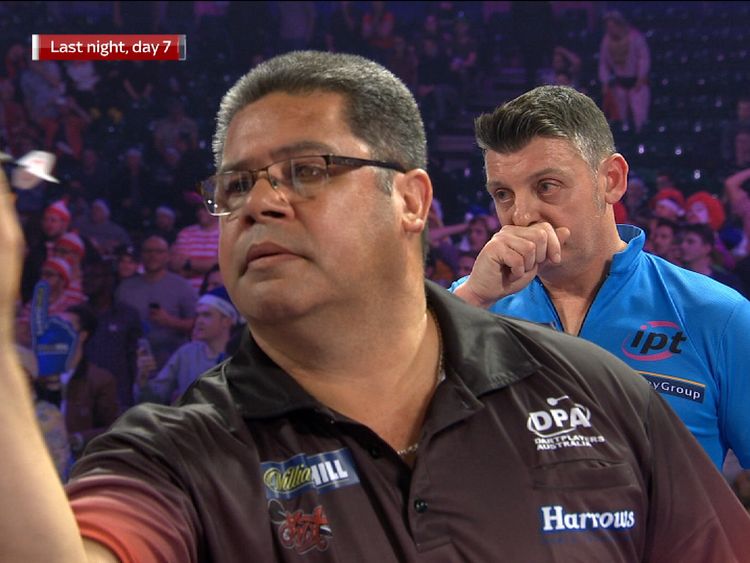 Pipe has denied deliberately attempting to sabotage Smith's game – and said he is focusing on his second-round game with Taylor instead.
More from UK



Aldi attack: Man charged with murder after woman fatally stabbed in supermarket




Theresa May rejects petition to diversify Grenfell fire inquiry panel




Boris Johnson clashes with Russian foreign minister Sergei Lavrov on rare Moscow visit




180 hit as mussels cause outbreak of norovirus in hospital




Controlled explosion after police disrupt Christmas 'terror plot'




'Homelessness crisis is like fighting a losing battle'
He added: "I'm bitterly disappointed with the comments which were made on Sky Sports and it's not nice for me and my family to hear.
"I would never do something to put another player off and Bernie didn't say anything to me on the night. As far as I'm aware there is no issue from his side and this has been blown out of proportion."