Darren Campbell: British former sprinter 'relieved to be alive' after brain bleed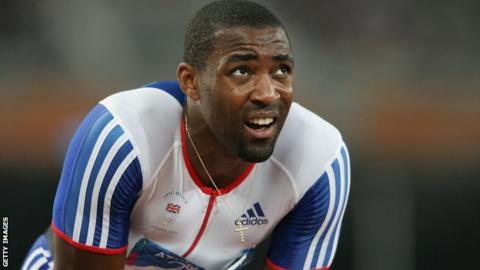 British former Olympic champion Darren Campbell says he is "relieved to be alive" as he recovers in hospital after suffering a bleed in the brain.
The 44-year-old had to be resuscitated when he was rushed to hospital last Tuesday after having a seizure at home.
Campbell, who won 4x100m relay gold at the 2004 Olympics, told BBC Sport he had a pituitary apoplexy – a bleed into the gland at the base of the brain.
"I nearly died," he said. "You have to give thanks. That is how close it was."
Campbell says he now wants to be "left alone" while he recovers from the trauma of an episode that left him needing a ventilator to breathe.
"I don't want to be Darren Campbell at the moment," he said.
The BBC Radio 5 live presenter and pundit had never previously had a seizure but had several during his first few days in hospital.
His wife and three children are now with him, after it was initially decided his two youngest children should not visit until he had shown signs of recovery.
"It's only when I see the fear in my kids' eyes that you realise," said the two-time Commonwealth Games gold medallist.
"When they first told me I was on a ventilator, I didn't believe them. I've got other people filling in blanks. If you can't breathe by yourself, you are not in a good place.
"I have to be relieved as I nearly died."
Campbell initially needed three injections a day to stabilise the function of his pituitary gland, which releases hormones that help control bodily functions including growth, blood pressure, energy management and metabolism.
But he now hopes to leave hospital on Tuesday.
"It was scary for the family as they are used to seeing this strong character," said the Manchester-born former sprinter.
"All of a sudden I couldn't control my body. My oldest son has been a rock and kept everything together.
"The doctors have said if I wasn't so fit, I wouldn't be here. I was always going to fight. As long as the doctors were fighting, I'd fight."
Campbell says lying in his hospital bed has made him "appreciate life" more, and has urged people to make regular visits to their doctor.
He said: "I've been thinking about my kids, and all I was thinking is I have to keep fighting as I want to see my 10-year-old daughter get married one day. I grabbed onto that and the medical people have been absolutely unbelievable.
"My daughter had been watching a programme called Say Yes to the Dress. She had come downstairs a couple of days earlier saying: 'Dad, I know what budget I want for my wedding dress.' She said: 'I want £5,000 for my dress.' You grab onto little things like that."
Campbell says he feels "extremely lucky" and now wants to spend time with his family.
"I'm not working this summer," he said. "I always work but I am taking time off. Each minute and moment I'm trying to take things in and give thanks.
"I'm calm. What can I panic about? I'm alive. The fact I can talk to you and be calm, I have to be thankful."