Dani Dyer and other daughters named after dads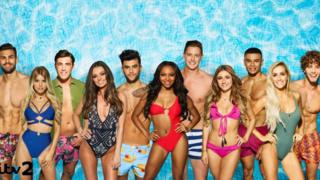 As Danny Dyer's daughter Dani Dyer joins the new series of Love Island, we look at some other famous daughters named after their fathers.
---
Dani Dyer
The 22-year-old clearly wants to live up to her father's name and follow him into show business.
She is the eldest of Danny Dyer's three daughters and worked as a barmaid while also appearing in eight films.
Ms Dyer also appeared briefly on ITV's Survival of the Fittest but had to drop out after dislocating a shoulder.
Her father is a film and TV actor who, for the past five years, has played Mick Carter in EastEnders.
Lorna Marsh, associate editor of Babycentre UK, says it is becoming more common for girls to be named after their fathers.
One reason she gives is that fathers are becoming more involved in their children's lives.
"We are definitely moving away from that traditional model of the men going to work and the women staying at home with the children," she says.
---
Nigella Lawson
The celebrity cook's father is Nigel Lawson, the former chancellor and now a member of the House of Lords where he is known as Baron Lawson of Blaby.
Her parents were not the first to feminise the name Nigel by adding the "la" suffix but their daughter is arguably the most famous proponent of such nomenclature.
According to Nameberry.com, Nigella was a name that "sounded unthinkably priggish" until it became attached to Ms Lawson who "gave it a big dollop of glamour".
Other notable Nigellas include Nigella Saunders, an Olympian and badminton champion from Jamaica.
Ms Lawson started as a restaurant critic and food writer before launching her own cookbooks, cookware range and TV series' dedicated to her culinary creations.
Name expert Ms Marsh says fathers often name their eldest sons after them to reflect their status in the family as the one who will inherit the most from the father.
Girls are now seen as just as "valuable" as boys when it comes to family line, she says, whereas historically the boy would be considered more important, for example with Henry VIII's quest for a son.
Ms Marsh says she has seen some "interesting and inventive" ways of feminising male names, for example Neville becoming Nevelyn.
---
Alexis Olympia Ohanian Jr
Tennis champion Serena Williams and her husband Alexis Ohanian, co-founder of Reddit, welcomed their first child in September last year.
They called their baby girl Alexis Olympia Ohanian Jr, which is unusual as the junior suffix is usually only used for boys.
Baby Alexis's middle name can be seen as a nod to her mother's success on the tennis courts, in particular her four Olympic gold medals.
Her parents were guests at the wedding of Prince Harry and Meghan Markle in May.
Alexis is a gender neutral name in that it can be used for both males and females.
Ms Marsh says gender neutrality is becoming a much bigger issue which can be seen in the growing number of names being used for both boys and girls, for example Harley or Blake.
She also says there are trends in the US with masculine names such as John and James being used as the middle names for girls after their fathers.
"We know the UK often follows the US in terms of naming trends," Ms Marsh says.
---
Are you a daughter named after your father? Or are you a father who has given your name to your daughter? Tell us why by emailing have yoursay@bbc.co.uk.
Please include a contact number if you are willing to speak to a BBC journalist. You can also contact us in the following ways:
WhatsApp: +44 7555 173285
Tweet: @BBC_HaveYourSay
Send pictures/video to

yourpics@bbc.co.uk

Text an SMS or MMS to 61124 or +44 7624 800 100
Please read our

terms & conditions

and

privacy policy