Dad of woman feared murdered 'went looking for her'
A woman in her 20s was found dead in a bed in a flat in Gossops Green, Crawley, after police were called around 10.30pm on Friday night.
A man aged 47 was found at the property, with minor injuries, and arrested on suspicion of murder after being checked by paramedics.
He is in custody.
Neighbours said police "flooded" into Highams Hills, and one man says he spoke to the woman's father before their arrival.
Deliveroo driver Aaron Harvey, 24, said: "This man came over, saying he had been looking for his blonde 28-year-old daughter and had I seen her.
"He said she had been house-sitting for a man in a flat here for four months.
"He said no-one had heard from her for about 10 hours and he was worried.
"He said it was her birthday and she had booked a hotel in London to celebrate with friends but never turned up."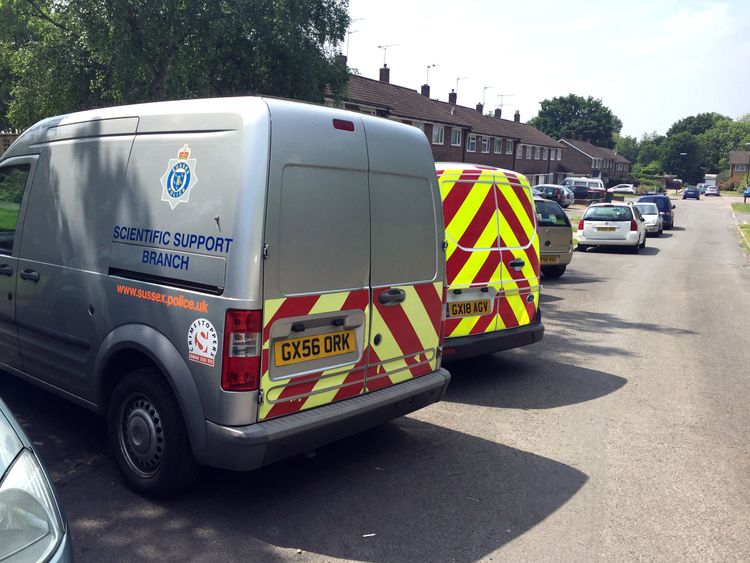 Mr Harvey said he felt sorry for the man, and that he had been knocking on the door of the flat for an hour, but with no response.
He added: "I said I had seen a blonde girl who didn't live here quite a bit recently but I didn't know her. I hadn't seen her that day.
"She would come back in the evening and always seemed to be in a rush. I told him if I saw anything I would let him know and that I hoped he found her.
"I really hope the police find out what happened to her."
Mr Harvey said he saw a different man, in a wheelchair, being pushed out of the flat. He said he was "covered in blood".
He said: "He was taken over to the ambulance to be treated. We have never seen him before so we don't think he lives here."
Detective Chief Inspector Emma Heater from Surrey and Sussex Major Crime Team said: "We are investigating the circumstances of the death and are appealing to anyone with information to please get in touch with us."