D í az-Canel considers Morales the winner "despite the media war of the continental right"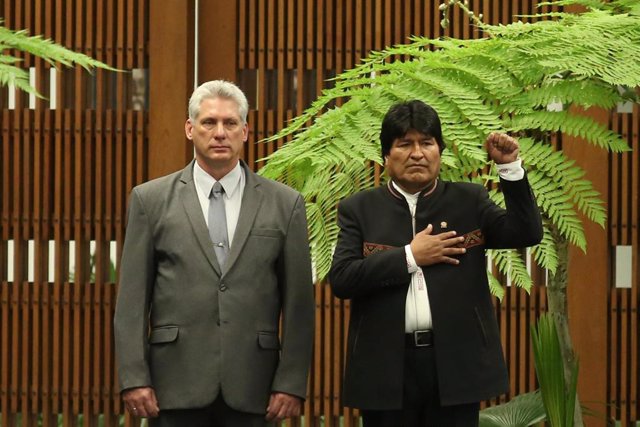 Miguel Díaz-Canel and Evo Morales – REUTERS / ALEXANDRE MENEGHINI – Archive
MADRID, Oct. 22 (EUROPE PRESS) –
The president of Cuba, Miguel Díaz-Canel, congratulated his Bolivian counterpart, Evo Morales, on Tuesday, giving him the winner of the elections held last Sunday, whose count has not ended and could force a second round of elections, "despite to the media war of the continental right. "
"Despite the media war of the continental right, Evo won for the fourth time. Congratulations brother president," Diaz-Canel said in his official Twitter account.
The Cuban president has celebrated that in this way "Bolivia is still on the left in the Latin American political map", which is why he has considered that Morales' victory is also "a victory for Latin America."
The Transmission of Preliminary Electoral Results (TREP) of the same Sunday, with more than 80 percent scrutinized, gave Morales 45 percent and the opposition candidate Carlos Mesa, 38 percent of the votes, in an initial result that would force celebrate a second round between the two next December. However, shortly after the TREP was suddenly suspended.
Mesa, surrounded by the Bolivian opposition, has denounced an alleged attempt by the Government to rig the electoral results to prevent Morales from having to submit to a second round, the first in 17 years. Both sides have called for the mobilization of their followers, which has resulted in riots in the early hours of Tuesday.
The TREP has resumed in the last hours. With 95 percent of the scrutiny completed, Morales has rebounded to 46 percent, while Mesa has dropped to 36 percent. If the Bolivian president manages to distance himself ten points from the opposition leader, he will have avoided the second round, getting another five years of government.