Cuba will open stores with dollar products to prevent currency leakage and resale of items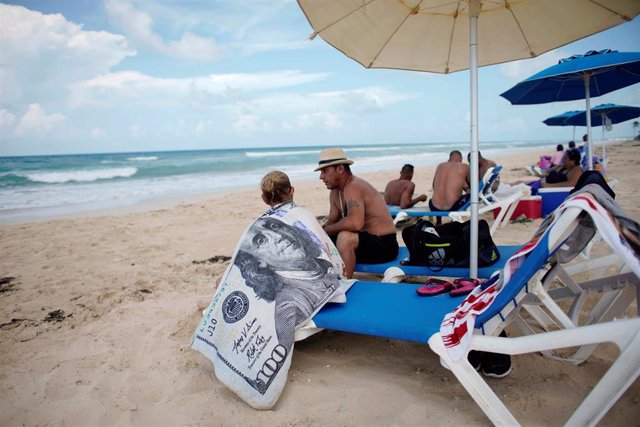 A tourist with a towel with the symbol of a 100 dollar bill on a beach in Cuba – REUTERS / ALEXANDRE MENEGHINI
HAVANA, Oct. 16 (Reuters / EP) –
The Cuban government announced on Tuesday the opening of special stores that will sell products in US dollars, in order to avoid the flight of foreign exchange and the resale door to door of items bought abroad by Cubans.
The vice president of Cuba, Salvador Valdés Mesa, has indicated in a state television program that 77 stores will be opened in the country that would begin selling appliances and other goods with their price in dollars starting at the end of the month.
"We aim to expand the supply of household appliances, more in demand: electric mopeds, flat screen TVs, air conditioners and parts and pieces of vehicles," said Valdés Mesa in the program with several ministers.
The announcement of the Government of Cuba, which is looking for different ways to obtain liquidity, comes a few days after austerity measures were implemented in the face of fuel shortages due to the decrease in oil shipments from Venezuela and the increase in sanctions for U.S.
To buy in these stores, Cubans will have to deposit the dollars in cash and will obtain a valid card for those establishments, as detailed by the Government.
Currently, two currencies circulate in Cuba: the peso (the national currency) and the convertible peso (CUC), a currency 24 times stronger. Neither coin is accepted outside the island.
With the collapse of the Soviet Union, its former benefactor, the US dollar began to circulate on the island until the late former president Fidel Castro banned it in 2003.
Possession of the dollar or other foreign currencies is allowed on the island but so far it could not be used to buy goods or pay for services.
Many Cubans travel to Mexico, Panama and Haiti to buy products and spend the dollars they get from tourism. Some of them resell products door to door.
The Minister of Economy and Planning of Cuba, Alejandro Gil, has indicated that Cubans could continue traveling and buying abroad, but now they will have the competence of the State that controls most of the economic activity.
"We are working on the supply side, there is no prohibition that is being enforced today … it is an option based on a competitive offer," Gil said.