Crowds annoyed at RAF Derwent Dambusters flypast mix-up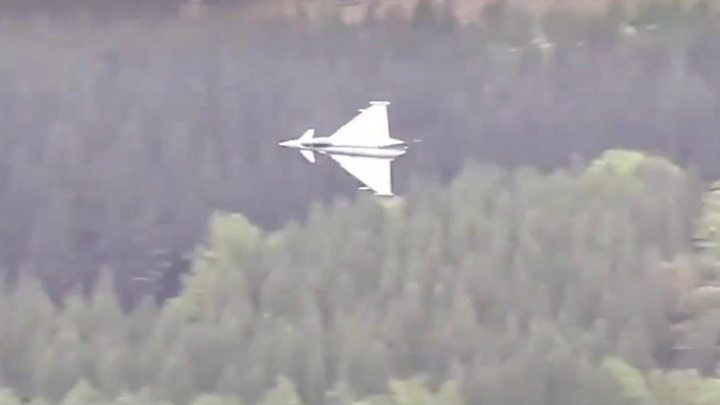 Crowds of people were left disappointed after a mix-up led to them missing a flypast by an RAF Typhoon over the Derwent Dam.
Spectators were initially informed a Lancaster Bomber, marking the 75th anniversary of the Dambusters raid, would not fly due to bad weather.
They were then told its replacement, a Typhoon, would also not fly, only for it to roar over minutes later.
The RAF has apologised to those who attended the event for the confusion.
Sqn Ldr Andy Millikin, the Officer Commanding the Battle of Britain Memorial Flight, tweeted that the Lancaster, and later the Typhoon, could not make it to the dams due to poor weather.
However, not long after his post the Typhoon flew overhead as many people had already started leaving the Ladybower Reservoir area.
Sharon Fitton, who was one of many people who were annoyed about the mix-up, tweeted: "What a shame thousands of people waiting for hours to read flyby cancelled, yet Typhoon has just flown over all leaving spectators. Poor show RAF."
Stuart Needham added: "I've got some footage of me and my missus in the pub listening to the sound of a jet flying overhead after reading and being told by a copper it had been cancelled."
Skip Twitter post by @acerholli
Your information was clearly incorrect as a typhoon has flew past at 1244 and lots of people took your word for granted and left the dam before the fly past. Well done for disappointing 1000s

— Mellen* (@acerholli) May 16, 2018
End of Twitter post by @acerholli
However, others defended the decision.
Skip Twitter post by @NeilJackson10
Some of the replies to this tweet are horrendous. Some people need a reality check. Well done for getting in whoever was flying the Typhoon 👏🏻🇬🇧

— Neil Jackson (@NeilJackson10) May 16, 2018
End of Twitter post by @NeilJackson10
It is understood that the confusion arose when the pilot said he could not fly the proposed route due to low cloud.
However, he overcame the problem by flying in a different direction but this message was not passed on.
The flypast was to mark the 100th anniversary of the Royal Air Force and 75th anniversary of the Dambusters raid by 617 Squadron.
The Lancaster was meant to leave RAF Scampton, Lincolnshire, and fly through the Derwent Valley over Chatsworth towards Rolls Royce in Derby and then Eyebrook Reservoir in Leicestershire.