Crisis warns of rise in UK's 'hidden' homeless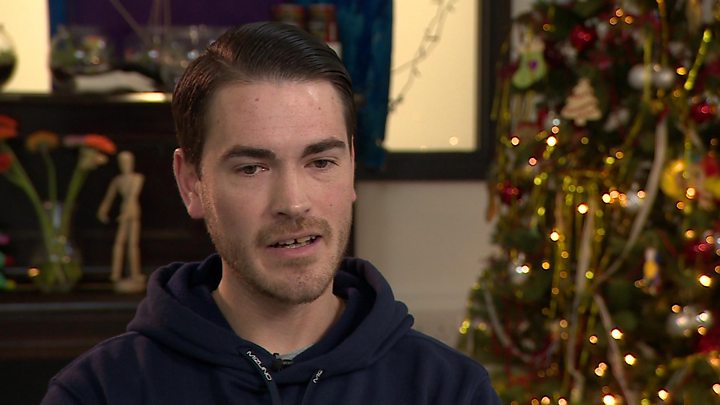 More than 9,000 people will wake up on Christmas Day in cars, trains, buses and tents, a charity has warned.
Crisis claims the number of so-called "hidden" rough sleepers will rise by 47% to 13,400 over the next decade unless "immediate action" is taken.
Chief executive Jon Sparkes said they were at risk of being "hidden from help and trapped in horrifying situations".
The government said it was committed to halving rough sleeping by 2022 and eliminating it altogether by 2027.
A spokesman from the Department for Communities and Local Government said: "We are providing over £1bn through to 2020 to prevent homelessness and rough sleeping.
"We are also bringing in the Homelessness Reduction Act – the most ambitious legislation in decades that will mean people get the support they need earlier."
Night shelters
Crisis said the 9,100 number of "hidden" rough sleepers was in addition to the current estimate of 9,100 rough sleepers across the UK.
Its research, carried out by Heriot-Watt university, looked at current and projected levels of homelessness using government figures, academic surveys and cases recorded by local authorities, and found 160,000 households in the UK were experiencing homelessness.
People identified as homeless included those rough sleeping, sofa surfing, squatting, living in hostels and forms of temporary accommodation – as well as other forms, including people forced to sleep in cars, tents and night shelters.
---
'I really didn't want to explain to friends'
Paula, who spent three months sleeping in her car, said being a "hidden" rough sleeper was a "terrifying" experience.
"You got no privacy," she said. "You don't know who's around your car at any given time.
"I was lucky really, because I had neighbours around who knew the circumstances and supported me and helped me with hot water.
"I was able to keep going with college and have a shower there if I needed to," she added.
And Alex, 36, slept in a tent for four weeks after the break-up of a relationship.
"The experience was quite overpowering," he said.
"I kind of just kept it in my mind that I'm not really homeless, it's just a long camping trip."
He adds: "Everyone walks past homeless people [but] you kind of acknowledge it and think it'll ever happen to me.
"I really didn't want to explain to friends and family that I'm in that area of need".
---
Crisis will open its doors to 4,500 homeless people across its centres in London, Edinburgh, Birmingham, Newcastle and Coventry over the festive period.
Mr Sparkes told BBC News: "On top of more than 9,000 people rough sleeping, we've got another 9,000 who are 'hidden' rough sleeping.
"We perhaps haven't focused on those people before."
He said people living in tents, cars and buses "often end up forgotten, hidden from help and trapped in horrifying situations."