Cranberries singer was to re-record Zombie
Dolores O'Riordan was found dead at a hotel room in London's Park Lane on Monday, just hours before she was booked to sing with hard rock band Bad Wolves.
The singer had told the group that she liked their version of her hit Zombie and was to add her vocals to a new version, at a session planned for today.
In a tribute from the band, singer Tommy Vext said: "Zombie is an incredibly personal song and although we are a hard rock band, we always felt the rawness and honesty she projected on stage and in her recordings was something to which all bands should aspire to, regardless of genre.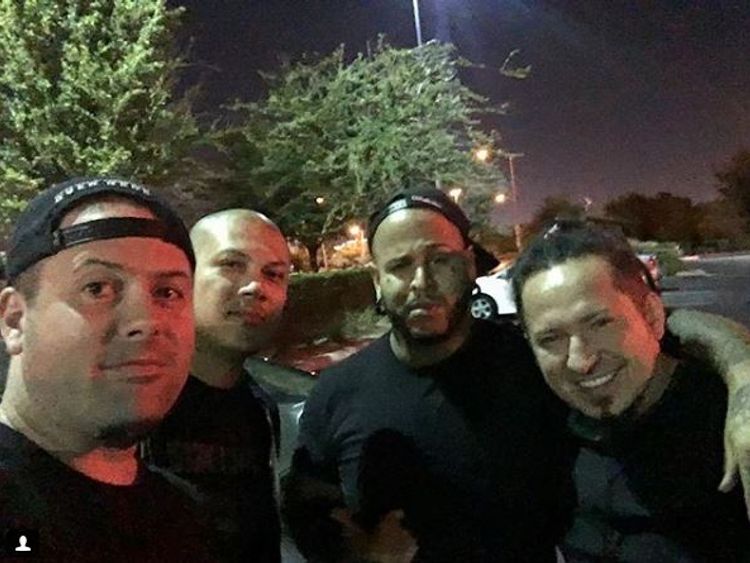 "When we heard she liked our version and wanted to sing on it, it was the greatest compliment a new band, or any band for that matter, could have received."
Musician Martin Glover, who goes by the stage name Youth, also confirmed on Instagram that he had been one of those waiting for her in the studio when he learned of her death.
He wrote: "Tragic and awful news as we were waiting for her in the studio today…thoughts are with her family and loved ones."
Music producer and friend Dan Waite also paid tribute to the singer, revealing she left him a message the night before the recording session in which she sounded "full of life".
He said: "Dolores left me a voice message just after midnight last night stating how much she loved Bad Wolves version of Zombie; she was looking forward to seeing me in the studio and recording vocals.
"She sounded full of life, was joking and excited to see me and and my wife this week. The news of her passing is devastating and my thoughts are with Don her ex-husband, her children, and her mother."
The Cranberries said they are "devastated" at the death of their former band member, saying "the world has lost a true artist".
The band, which was formed in 1989, rose to international fame in the 1990s and sold more than 40m records worldwide, with hits including Zombie, Linger and Dreams.
The group released five albums before taking a break in 2003.
O'Riordan, from Friarstown, Co Limerick, released two solo albums during the hiatus before the band reformed in 2009.
More from Entertainment



Catherine Deneuve apologises to sex attack victims after #MeToo row




Master of None star Aziz Ansari responds to sexual misconduct allegation




Wahlberg donates $1.5m reshoots pay to Time's Up




Vogue and GQ suspend photographers Mario Testino and Bruce Weber over models' sex claims




The day Johnny Cash went to prison




Dua Lipa beats Ed Sheeran in Brit Awards 2018 nominations
O'Riordan is survived by her three children; son Taylor and daughters Molly and Dakota.
The 46-year-old split from her husband of 20 years, former Duran Duran tour manager Don Burton, in 2014.