Couple accidentally propose at the same time
When Jessa Gillaspie got down on one knee to propose to her girlfriend Becky McCabe, she had no idea that her soon-to-be fiancee had been planning the same thing.
On a trip to Memphis Zoo, where the Tennessee couple shared their first date, both women had secretly prepared to ask the other to marry them.
A video filmed by a friend captures the moment.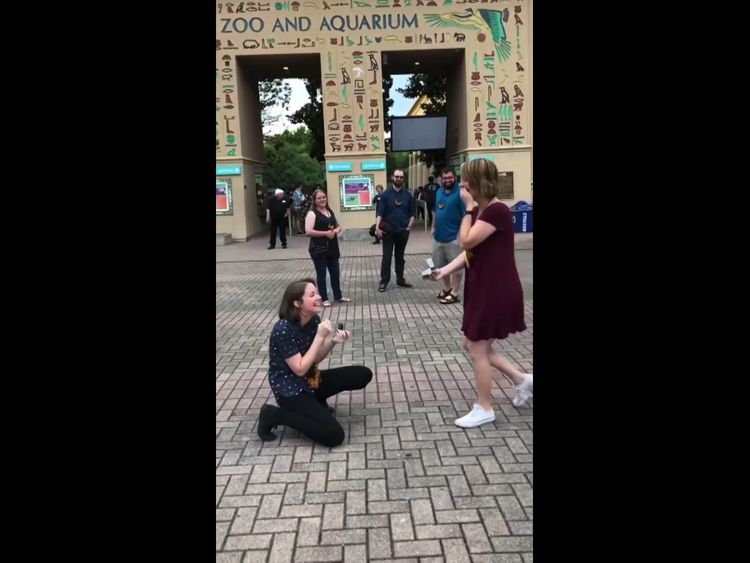 It shows psychologist Jessa asking research assistant Becky if she will be in a candid photo of the pair facing each other.
Moments later, Jessa gets down on one knee and pulls out a ring – only for Becky to grab her bag, pull a ring out and to propose in turn.
Clearly surprised, the pair burst into shocked laughter before hugging each other.
The couple, who have been dating since 2015, are now happily engaged and the video capturing the moment has gone viral.
Jessa wrote on Facebook: "Becky McCabe and I got engaged Friday night at Zoo Brew!
"I had no idea she planned to propose, and she had no idea I planned to propose to her! We were both so surprised!
"We were surrounded by our friends and had the most amazing night. I am the luckiest girl in the world to be able to call her my fiancé."
More from United States



Mike Pompeo says it would be 'tragic to let N Korea summit talks go to waste'




Starbucks closes 8,000 stores in US for racial-bias training




'Darkest day in history' as Syria begins UN disarmament presidency




Rachel Dolezal, who posed as black, accused of welfare fraud




Donald Trump pardons black boxing champion Jack Johnson




North Korea brands Mike Pence 'stupid' as it warns of 'nuclear showdown' with US
Jessa also revealed that Becky had previously given her a 60-page diary noting all the reasons she wanted to marry her.
Writing on Facebook to mark their engagement, Jessa said: "Five days ago the love of my life and I got engaged. It has to have been the best proposal that anyone could have asked for."