Could you, like Meghan, halt your career for your partner?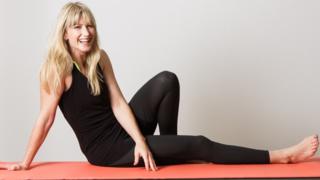 Agreeing to marry Prince Harry prompted Meghan Markle to end her acting career – so what is it like to turn your back on your job for your partner?
If you are married to a football manager it can come with the territory – as Rachel Potter discovered.
Her husband Graham – an ex-professional player – was coaching football and studying at Leeds Metropolitan University when he was offered his first job in management in 2011.
The only problem: it was in Ostersund, Sweden.
His time at Ostersunds FK has turned out to be a remarkable success story – but what of his wife, who has been alongside him every step of the way?
She was living in York running a pilates business, which had been 12 years in the making, when Graham was asked to move to the remote town, 240 miles from the Arctic Circle.
So did Rachel want to go?
"No," she says. "But I could see that my husband really wanted to do it – and I felt like I couldn't not go."
It wasn't just the two of them – they had an 11-month old baby, Charlie, as well.
"We were moving him away from family and everything else," she says. "Knowing that you've got to start all over again, it was tough.
"When I first moved here people didn't even know what Pilates was."
Then there was the cold. When they arrived in February 2011 it was -25C.
"I didn't want to get out of bed or go anywhere," she says. "I just wanted to shut out the world.
"I remember having a chat with my husband saying I really don't want to be here. He said: 'Give it until the summer and if you still feel the same, then you can go home and I'll finish the year and come back.'
"I felt like I had a weight lifted off my shoulders as I had a get-out clause. It changed my mind-set."
The turnaround was gradual. She started learning Swedish, making friends, and, very slowly, introducing Ostersund to pilates.
Now into her eighth year, Sweden has become home.
Her twins Sam and Theo were born in Ostersund, she has made lifelong friendships, and her pilates business has taken off.
"If I hadn't done this, I could kind of see what my life would look like, whereas now I have no idea," she says.
It's not just her husband who recognises the sacrifices she has made. The football club's fans expressed their gratitude to her in an open letter – and made a banner.
Yet being married to a football manager means another upheaval could be just around the corner – as Graham's success means he is being eyed up by prospective suitors.
Rachel, 41, says: "We're both up for a new challenge. We like to take risks.
"For some other people it might totally freak them out, but for us it's just a bit exciting."
'My mates were astonished'
Dan Hiscocks had also spent over a decade building up a business, in publishing, when he found himself putting his career on hold for his partner.
The US came calling for his wife Fiona in 2008, and the opportunity to study at Harvard University was too good to turn down.
So Dan went too, to be primary carer to their one-year-old son Joshua.
"My mates were astonished," he says. They asked him how he could spend 10-12 years building up a business and just walk away from it.
His wife was also surprised, as well as a little nervous, he admits, in case everything went wrong.
"I was feeling that it would be another adventure," says Dan. "I was excited. The reality was completely different."
After 18 months in Cambridge, Massachusetts, Fiona's work led her to Washington to help to build leaders at the top level of the US Government, working with President Obama.
It was a sharp contrast to Dan's world as a house husband.
You might also like:
It got harder when their second child – Teddy – was born prematurely and Fiona had to quickly return to work. "He had an illness which was really difficult," says Dan.
Loneliness was also a problem. "There weren't many men doing what I was doing," he says.
"But it's what a lot of people have to do. What I kept on trying to tell myself is that actually it didn't matter whether I was male or female. How lucky are we that we are in a position able to do this?
"I didn't focus on what I'd given up."
They returned to the UK in 2013 – and Dan, 47, now juggles his publishing business, Eye Books, with childcare.
He says he loved the experience, but admits questions remain.
"Here I am, closer to 50 than 40," he says. "Perhaps you could argue – and certainly some friends of mine do – that I wasted the best career years of my life by following my wife to achieve her dream."
But he doesn't agree. "I think my dream was about the whole rather than the individual parts," he says.
Part of that was being a father. "I feel I have the most amazing relationship with my kids," he adds.
'No question I wouldn't go'
Esme Benjamin also found her other half being lured across the pond – in her case to the bright lights and buzz of New York City.
But giving up her job as a writer wasn't voluntary – it was an unwelcome side-effect of joining her soon-to-be husband Sid.
"I'd really established myself in London with a good job and a social circle and so on, and now I was going to have to start over at 27," she says.
Tearful discussions followed, yet there was never any question she wouldn't go.
"Once we had committed to it I was excited about the prospect," says Esme. "It's an incredible city, but I was also aware it was going to be very difficult for me to work."
And so it transpired. Not many companies are willing to pay the thousands of dollars required for a visa, and then hang around for months waiting for it.
"Saying goodbye to my career, and not knowing if I'd be able to continue on that career path, was really difficult," she says. "But there are other things that give your life meaning."
She tried to fill her time. There was yoga teacher training, studying, blogging, reading, writing a novel – since discarded – and exploring the city.
"In some ways, what a privilege to spend your days like that," she says. But the fact it could go on "indefinitely" made it difficult.
'Completely bonkers'
She also didn't enjoy being financially dependent on her husband, who worked in advertising.
At her lowest point, she felt she didn't have any money or friends and convinced herself she was ill. "But it was just in my head," she says.
"I became hyper-focused on everything to do with health and very obsessive about it."
One doctor thought she might have parasites and suggested eating nothing but organic pineapple and pumpkin seeds.
"It's completely bonkers," she says. "That was all I ate for three days and I felt truly horrendous – as you can imagine."
Did the move affect her relationship with Sid?
"I carried some resentment over it," says Esme. "But he was nothing but calm and supportive. He always had faith it would work out."
It was three years before Sid managed to get his hands on a visa which allowed spouses to be employed.
"I do feel that it set my career back. But all the greatest learning experiences come out of challenges", says the 33-year-old, who is now wellness editor at online website Culture Trip.
"I'm so glad I did it. These have been some of the most exciting years of our lives, so even though it's been difficult at times, I would never take that back."
So what's in store for Prince Harry's new wife?
Esme says: "It's going to be hard, there's going to be an adjustment period, but you'll have so many adventures and, ultimately, it'll be worth it."