Corbyn to set out 'tariff-free' Brexit plan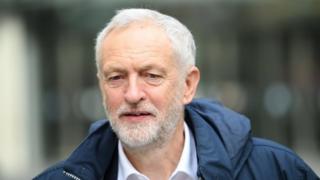 A Labour government would negotiate "full tariff-free" access to EU markets for UK businesses after Brexit, Jeremy Corbyn is to say in a speech.
The Labour leader is expected to confirm his support for permanent membership of a customs union after the UK leaves the EU in March 2019.
He will also pledge to protect jobs and guarantee existing rights.
PM Theresa May will set out the government's vision of future economic relations with the EU on Friday.
The prime minister has insisted the UK will leave both the single market and the customs union, allowing it to negotiate its own post-Brexit trade deals.
'Down to earth'
But Mrs May is expected to give details on Friday of what has been agreed by her cabinet on how the UK's "managed diversion" from the EU will work in practice.
In his speech, Mr Corbyn will argue that the EU is "not the root of all our problems" nor "the source of all enlightenment".
"The truth is more down to earth and it's in our hands; Brexit is what we make of it together," he will add.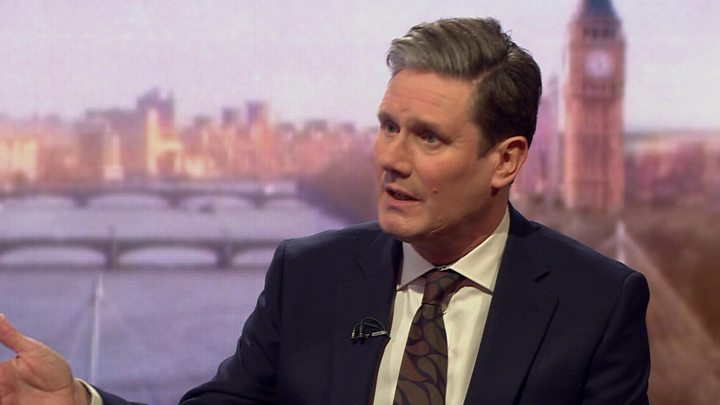 The Labour leader is facing calls from senior pro-European figures in his party, including Lord Mandelson and former leader Lord Kinnock, to commit to remaining in the EU single market, as well as the customs union.
But Mr Corbyn will reject this approach in his speech in Coventry, setting out what he calls his "jobs first" approach to Brexit.
"Every country that is geographically close to the EU without being an EU member state, whether it's Turkey, Switzerland, or Norway, has some sort of close relationship to the EU, some more advantageous than others," he will say.
"Britain will need a bespoke relationship of its own. Labour would negotiate a new and strong relationship with the single market that includes full tariff-free access and a floor under existing rights, standards and protections."
'Bold new agreements'
Labour has previously said it wants to retain the "benefits" of the single market and customs union after Brexit without saying how that would be achieved.
Shadow Brexit Secretary Sir Keir Starmer told BBC One's Andrew Marr Show the UK will leave the customs union in March 2019 – but Labour would seek to negotiate a new treaty that will "do the work of the customs union".
He said this was "the only way realistically to get tariff-free access" to EU markets for UK manufacturers and to avoid the return of a "hard border" in Northern Ireland.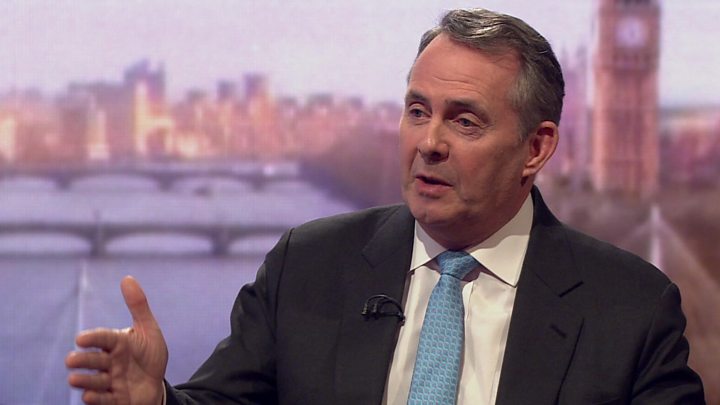 And he suggested the UK could work "jointly with the EU" to strike "bold new trade agreements" with other nations, which the government argues is only possible outside a customs union.
The government has delayed a vote planned for this week on the Trade Bill, which could have seen pro-European Tory rebels joining forces with Labour to vote for an amendment keeping the UK in a customs union after Brexit.
Speaking on the same programme, International Trade Secretary Liam Fox said Mrs May's speech on Friday will also answer some of the concerns of Remain-supporting Tories, such as Anna Soubry, who were threatening to vote down her plans.
Mrs Soubry told BBC Radio Four's The World This Weekend she was ready to pull back if Mrs May announced measures that would amount to a customs agreement on Friday, saying: "It's absolutely beholden now on the government to get itself in the right place."
Conservative MP Steve Baker, commenting on Mr Corbyn's plans for a customs agreement, said: "Ever since the referendum, Labour have flitted between offering false reassurances and trying to frustrate Brexit – rather than getting on and making it work.
"Just last week the shadow chancellor said Labour are open to a second referendum."
He added that "only the Conservatives" would deliver on the referendum result.