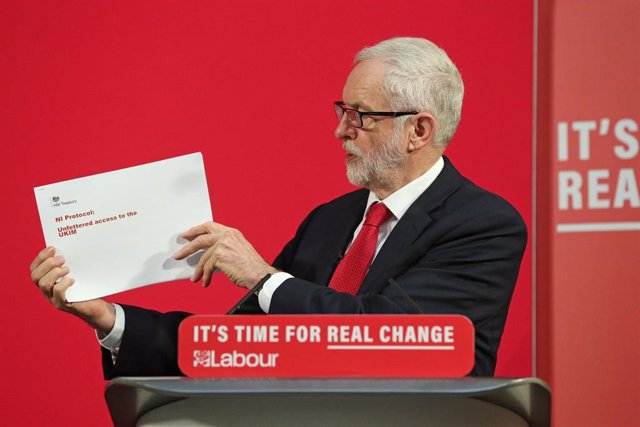 Jeremy Corbyn shows a document during a campaign event – Jonathan Brady / PA Wire / dpa
LONDON, 6 (Reuters / EP)
The British opposition leader, Jeremy Corbyn, said Friday that he has a confidential government report showing that there will be customs controls between Northern Ireland and the rest of the country under the Brexit agreement negotiated by Prime Minister Boris Johnson.
"This is the raw and cold test that categorically shows the impact that Johnson's harmful Brexit agreement will have on large parts of our country," said the Labor leader in a speech in London.
Johnson's main campaign message for next Thursday's election is that he will be able to comply with Brexit three years after the 2016 referendum, but Corbyn has argued that the slogan is misleading.
According to the opposition leader, the prime minister wants the British to vote blindly, ensuring that the leaked government document reveals that there will be customs declarations and security controls between the island of Great Britain and Northern Ireland, which contradicts the claim of the 'premier 'that there would not be a border in the Irish Sea.
Johnson has been quick to call the alleged confidential document "nonsense." Asked about it by the press, he replied: "I have not seen the document to which it refers but that is a complete nonsense." "With the agreement we have, we can leave (from the EU) as one United Kingdom," he said.
A government source has clarified that the leaked document used by Labor was written by an official, was an initial estimate of the agreement and was not approved.
The Labor plan for Brexit contemplates negotiating a new agreement with the EU that includes a customs union and then holding another referendum on whether it is accepted, although Corbyn himself has indicated that he will remain neutral.
"Once the decision has been made, we will need a prime minister capable of speaking with both sides if we want to unite the country," Corbyn defended. "I think we've had enough division," he added.
Meanwhile, the latest Ipsos MORI poll published Friday in the 'Evening Standard' shows that conservatives maintain a 12-point advantage over Labor, four points less than two weeks ago. Thus, Johnson's are at 44 percent while Corbyn's are 32 percent.