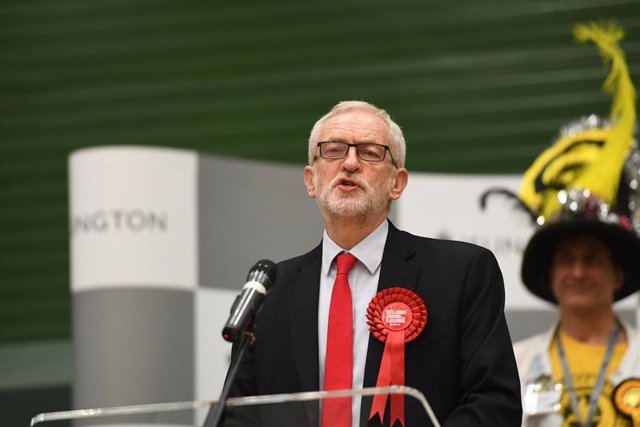 Jeremy Corbyn appears before the press this Friday in London – Joe Giddens / PA Wire / dpa
LONDON, Dec. 13 (EUROPE PRESS) –
The leader of the Labor Party, Jeremy Corbyn, has ruled out presenting his resignation as a leader of the training, while denouncing that he has suffered "more personal attacks than any other leader ever."
"I was chosen to lead the party and I think the responsible thing is not to leave," said the Labor leader, in his first public statements after confirmation of the severe defeat suffered by Labor in Thursday's elections.
The leader of the main opposition party has denounced that since he assumed the reins of his formation he has received "more personal attacks" than "no other political leader" and that happens all the time. "" I will speak with our national executive about the future. ", he pointed out.
After advancing on Thursday that he will continue as a deputy for the constituency that has chosen him, he has indicated that he will remain as a Labor leader until the party executive elects his successor at the beginning of next year.
"The national executive will have to meet in the short term and will be the one to make the decision, not me," said Corbyn, who has led the Labor to reap one of the worst results of the last decades, with only 203 deputies, facing at 364 that the Conservative Party has achieved, led by British Prime Minister Boris Johnson.
"What I hope is that we have a period in which there will be a discussion within the party. It will be at some point in the initial part of the year," said Corbyn, who has declared himself "sad" because of the election results he has reaped his training, as reported by the BBC and 'The Guardian'.
The Labor leader has stressed that he has done "everything possible" to lead his party and develop his own policies, has declared himself "proud" of the electoral program presented by his training and has ensured that the elections have been "absorbed" by Brexit .
As reported by the local newspaper 'The Independent', throughout the day have increased the voices within the Labor Party calling for the resignation of Corbyn, both deputies who have been elected in the elections and candidates who have not won the seat .
An example of the critical voices has been given by Deputy Margaret Hodge, who has asked "please" Corbyn from her Twitter account to submit her resignation. "Corbyn has spoken of a period of reflection. I have reflected. He has failed. Please resign," he wrote.