Corbyn proposes to increase tax revenues by almost 100,000 million to finance more social spending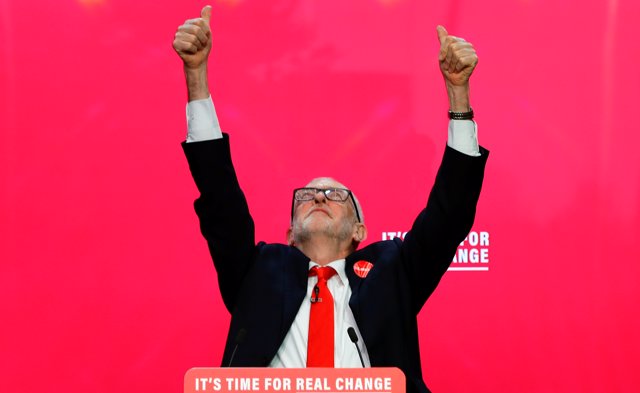 The leader of the Labor Party, Jeremy Corbyn – REUTERS
LONDON, Nov. 21 (EUROPE PRESS) –
The United Kingdom Labor Party has proposed an increase in tax revenue by 82.9 billion pounds (96.698.9 million euros) with the aim of financing higher social spending during the whole of the new legislature, which will end in the fiscal year 2023/2024, as follows from the program presented this Thursday by the training.
Most of the new revenues will come from the increase in Corporate Tax to bring it closer to 21%, in case of few benefits, and 26%, for large corporations. Labor expects to enter an additional 23.7 billion pounds (27.645 million euros) with this measure. Also, the formation estimates to enter another 6,300 million pounds (7,348.7 million euros) by unifying the taxation of multinationals.
On the other hand, the increase in taxes for capital gains and dividends will impact a total of 14,000 million pounds (16,330.4 million euros) additional.
The increase in the tax on financial transactions, popularly known as the 'Tobin rate', which will be applied mainly to the sale of shares, will generate 8,800 million extra income, while the plan to combat tax evasion will increase the coffers by 6,200 million pounds (7,232 million euros).
On the other hand, British Labor have also proposed to modify the sections of the Income Tax for Individuals (Income Tax), so that those who enter more than 80,000 pounds (93,307.1 euros) per year are taxed at a rate of 45%, while those who enter more than 125,000 pounds (145,792.4 euros) pay a 50% rate.
Currently, the first 12,500 pounds (14,579.2 euros) are tax free. Income above that figure and up to 50,000 pounds (58,317 euros) are taxed at a rate of 20%, while between 50,001 pounds and 150,000 pounds (174,950.9 euros) are subject to a 40% tax. The personal income tax for income exceeding 150,000 pounds per year stands at 45%.
The objective of the training led by Corbyn is to increase free daycare centers, guarantee the free school canteen to all students, abolish the payment of tuition fees of public institutes, increase the financing of programs to fight homelessness and health spending, including dental treatments.