Corbyn denounces that Johnson plans to offer the US access to the British National Health System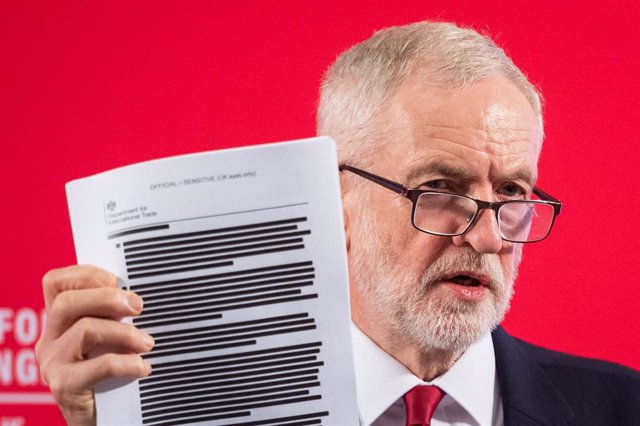 Jeremy Corbyn wielding the documents he says prove that Johnson has weighed offers the US access to the HNS – Dominic Lipinski / PA Wire / dpa
The British prime minister rejects the accusation of the Labor leader and says that the system is not for sale
LONDON, Nov. 27 (Reuters / EP) –
The leader of the opposition Labor Party, Jeremy Corbyn, has denounced on Wednesday that British Prime Minister and conservative candidate for re-election, Boris Johnson, has been weighing the possibility that the United States can access the British National Health System (NHS).
The British opposition leader has said he has documents that would show that Johnson has held talks to offer the United States the possibility of entering the NHS if the system is privatized, all within the framework of a future trade agreement.
Johnson has responded to Corbyn in a few minutes and has said he does not intend to privatize the NHS or offer its sale to the United States in the context of business talks.
Corbyn, who has argued that the Johnson Conservative Party will allow the United States to increase the price of medicines under a trade agreement, has said it has 450 pages of censored documents on the talks between the United Kingdom and the United States.
"You may want to explain why these documents confirm that the United States is demanding that the NHS be at the table in the trade talks," the Labor Party leader said at a press conference. "These uncensored documents leave Johnson's denials as absolute rags," he stressed.
After the appearance of Corbyn, Johnson has assured that his accusation is meaningless and has accused the Labor leader of trying to divert attention from the "problems" that the opposition formation has.
"It is absolute nonsense. This is taken out again and again by the Labor Party as a distraction from the problems they have," said Johnson, in statements to journalists in his election caravan.
"I can give you an irrefutable guarantee that this is a complete distraction because the NHS will under no circumstances be on the negotiating table for sale," said the leader of the British Conservative Party.