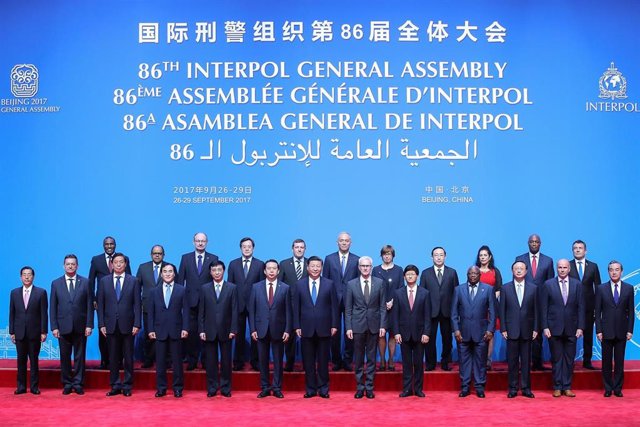 Meng Hongwei poses to the right of the president of China, Xi Jinping, at a general meeting of Interpol in Beijing, before being dismissed and arrested by the Chinese authorities – GETTY IMAGES / LINTAO ZHANG – Archive
MADRID, Jan. 21 (EUROPE PRESS) –
Meng Hongwei, the former president of Interpol, has been sentenced by a Chinese court to a sentence of thirteen years and six months in prison for corruption offenses, as reported on Tuesday by the state television network CCTV.
Convicted in China to more than thirteen years in prison for corruption Interpol ex-president Meng Hongwei
Tianjin Intermediate People's Court No. 1 has condemned Meng Hongwei, who was the first senior Chinese government in charge of Interpol, to pay compensation of two million yuan (about 261,000 euros) for the irregularities he incurred.
As reported by the local newspaper 'South China Morning Post', Meng has announced that he will not appeal the sentence. The ruling indicates that between 2005 and 2017, Meng took advantage of his position as Deputy Minister of Public Security and as head of the Maritime Police to receive bribes for a total of 14.46 million yuan (1.8 million euros).
Meng's case caught the attention of the international press and provoked criticism from the Chinese authorities because his wife reported that he had disappeared after a trip to China and weeks later the authorities reported that he had been arrested for alleged corruption, without having previously informed Interpol of the ongoing investigation or arrest.