Contempt of court – what does it mean?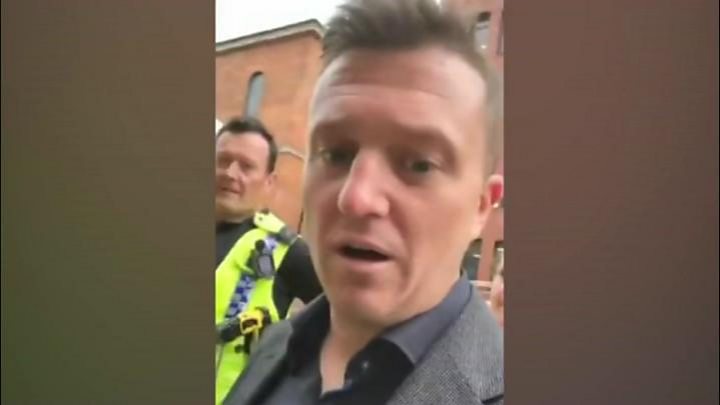 Tommy Robinson has been jailed for being in "contempt of court". What does that mean? And who else has been found "in contempt"?
Contempt of court laws are designed to protect the rule of law, ensure fair trials – and avoid trial by media.
Contempt can be committed by a broad range of people and organisations including the press, jurors, and – as we have learned in recent years – social media users.
The maximum sentence for contempt of court is two years' imprisonment, but it can also be punished with a fine.
The law on contempt is set out in case law and the 1981 Contempt of Court Act.
It sets out the key areas and broad principles of what will amount to contempt. They include:
Publishing anything that creates a substantial risk of seriously prejudicing "active" criminal proceedings. Proceedings are 'active' when a suspect is arrested
Bringing into a court building a device for recording sound
Breaching the confidentiality of the jury's deliberations
Taking photographs or film in a court building is capable of being a contempt of court, as Tommy Robinson found out.
And breaching a court order or undertakings given to the court can also amount to contempt.
The Contempt of Court Act 1981 may pre-date the online age, but it is proving robust enough to capture online behaviour.
In 2011, two newspapers were found in contempt for publishing photographs of a defendant in a murder trial posing with a gun.
The trial at Sheffield Crown Court in 2009 saw Ryan Ward convicted of murdering car mechanic Craig Wass by hitting him over the head with a brick.
Although the pictures were said to have been published in error, it is difficult to think of anything much more prejudicial to a defendant on trial for murder.
The actions of the Mail Online and the Sun were examples of 'strict liability' contempt – meaning intent was irrelevant.
Papers in contempt over pictures

Papers in Bellfield contempt fine
The following year, the Daily Mail and the Daily Mirror were convicted of contempt following Levi Bellfield's conviction for the murder of the schoolgirl Milly Dowler.
The article published by the Daily Mirror detailed Bellfield's violent treatment and sexual abuse of his ex-wife and a former partner.
However, the jury still had to consider its verdict on an attempted abduction charge relating to another victim.
The jury had to be discharged, denying the victim and her family the chance of justice. Both papers were fined £10,000.
Juror admits contact via Facebook
In 2011, in the first case of its kind, juror Joanne Fraill contacted the defendant Jamie Sewart via Facebook – causing a £6 million drugs trial to collapse.
The court heard the initial contact came after Fraill went on the social networking website and tracked down Sewart, saying: "You should know me – I've cried with you enough."
Fraill was jailed for eight months for contempt for both contacting Sewart and conducting searches online about the case. Sewart had already been cleared but other defendants were still on trial.
And in 2012 juror and university lecturer Theodora Dallas was jailed for six months for carrying out her own research about defendant Barry Medlock, who was on trial for causing grievous bodily harm.
Jurors are given strong and specific instructions to consider the defendant's guilt solely on the basis of evidence in the case – and not to carry out their own research.
Contempt of court juror is jailed

Teenager sentenced over Facebook posts
In 2016 Damian Parker-Stokes was imprisoned for 15 months for taking photographs in court as his friend Ryan Sheppard was being jailed for murder.
Parker-Stokes took five photographs and a video of Sheppard in the dock. He posted one image of Sheppard on Sheppard's Facebook page with the words: "Respect g at least u had the balls to admit it …"
The then Lord Chief Justice Lord Thomas, said people who used Facebook to "mock the administration of justice" and "cause considerable concern" to a victim's family "must be deterred by the most severe sentences".