Consultation launches to find and fix UK's problem A-roads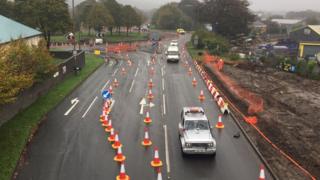 A-roads across the UK could be transformed by a new funding pot from the Department for Transport.
Councils are being asked to apply for up to £100m to improve major roads as part of a 12-week public consultation.
The scheme will prioritise road widening projects on dual carriageways, improving road safety measures, and major junction improvements.
Transport Secretary Chris Grayling said A-roads "have been underfunded" in the past.
Mr Grayling added: "This will unlock no end of benefits for communities by improving motorists' journeys, taking traffic away from built-up areas, as well as enabling new housing to be built and creating jobs."
About 5,000 miles of A-roads across the UK will be eligible for the multi-billion pound funding in improving the nation's strategic road network.
After the consultation, the scheme could begin in 2020.
BBC News business correspondent Jonty Bloom said the investment is hoped to alleviate congestion, "allow new housing to be built and boost economic growth".
From 2020 the money for road improvements will come from vehicle excise duty, which raised £6bn in 2016.
'Roads that matter'
Motorists in the UK drove 324 billion miles in 2016 – up 2.2% on the previous year – but AA spokesman Luke Bosdet said many drivers suffered a "daily nightmare" at notorious pinch points.
As a result, he said improvements to ease traffic flow were "very welcome".
RAC director of motoring Steve Gooding said: "For many businesses an economically important major road is the one that runs right up to the factory gate.
"It will be interesting to see whether the business bodies consider the government's plans to go far enough in designating the roads that matter to their members."
But Bridget Fox, of the Campaign for Better Transport, said the government should focus on improving major transport links, rather than overhauling major road networks.
She said the Department for Transport should apply a "fix it first" strategy to prioritising road maintenance, and improving public transport and cycling routes.
The government is also reported to be considering plans to introduce mileage and emissions-based charges for lorries in an attempt to cut congestion.
According to the Times, the "pay-per-mile" system could be used to replace other taxes, such as fuel duty, and could be rolled out to other types of vehicles if it works.
The Department for Transport told the paper there were "no plans" to roll out road pricing, but it was holding a consultation to update the HGV road user levy – introduced in 2014 so the vehicles make a contribution repairing the damage they cause to the road network.