Confirmed the second death by the mysterious viral outbreak declared in China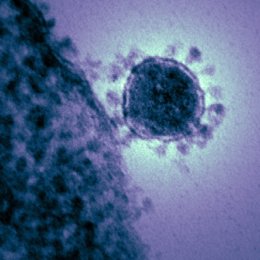 File image of a coronavirus – US NATIONAL HEALTH INSTITUTE – Stock
MADRID, Jan. 17 (Xinhua / EP) –
The health authorities of the central Chinese province of Hebei have confirmed this Friday the death of a second pneumonia patient due to the mysterious viral outbreak declared in the country almost two weeks ago.
The outbreak, according to the latest analysis, could be a coronavirus potentially similar to the cause of Severe Acute Respiratory Syndrome or SARS that broke out in southern China 18 years ago and killed 800 people worldwide.
The patient, a 69-year-old man, died on January 15, according to a statement from the Wuhan Municipal Health Commission. He had been transferred to Wuhan Jinyintan Hospital on January 4.
The symptoms reported upon admission to the medical center were acute myocarditis, abnormal renal function and serious damage to multiple organs, according to the statement.
On the other hand, Japan confirmed on Thursday the first case of the alleged coronavirus, diagnosed with a 30-year-old male who had traveled to Wuhan City.
The viral outbreak claimed its first victim in China last week. As of January 15, a total of 41 cases had been reported, of which 12 had been discharged and five were in critical condition.
A total of 644 of the 763 people who had close contacts with those affected and had been placed under medical observation have been discharged by not registering infections between them.
The coronavirus was confirmed after the Hong Kong authorities reported the entry into the Wuhan hospital of two citizens who had recently visited the Chinese region, specifically a market where some animal transmitting the virus would have come into contact or consumed.