Confirm the first arrest for damage to subway stations in Santiago, Chile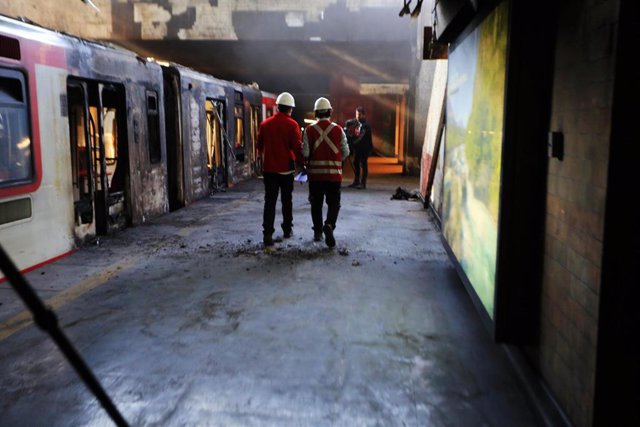 A subway car attacked in Chile – JOSE FRANCISCO ZUÑIGA / JF IMAGE PRO
MADRID, Oct. 30 (EUROPE PRESS) –
The South Metropolitan Prosecutor's Office of Santiago de Chile confirmed on Tuesday the arrest of a man for damage to subway stations in the capital, during a joint operation of the Special Police Investigation Brigade (BIPE) and the Investigation Police (PDI) .
The Prosecutor's Office has detailed that the detention has been carried out for the damages produced in the San Joaquin metro station, as reported by the Cooperativa station.
Likewise, the Prosecutor's Office has indicated that the person has been identified thanks to security cameras and images published on social networks.
"Detention of the first accused for damages – not fire – is confirmed to a Santiago metro station that will go into detention control tomorrow Wednesday afternoon at the Justice Center of Santiago," said the South Prosecutor's Office through Your account on the social network Twitter.
The subject has been identified as RCW, a 35-year-old Chilean citizen, who was arrested around 7:00 p.m. (local time), according to Radio Bío-Bío.
The BIPE has indicated that it is investigating the participation of other people in these events, as well as the participation of the detainee in similar situations in other stations.
The protests began on October 17 for the fourth rise of the subway ticket in a few months but that grew rapidly to denounce social inequality. After a week, the president of the country, Sebastián Piñera, has presented a "social agenda" and has remodeled the Government to respond to the concerns of Chileans.
At least 20 people have died, more than a thousand have been injured and more than 3,000 have been arrested. In addition, the National Institute of Human Rights has denounced abuses by security forces against those arrested that would include torture and harassment, among other abuses.