Comic capers of four British comedians stuck in New York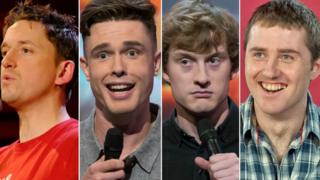 Four comedians get stranded by a snow storm.
It sounds like the set-up to a punch line, and four British comics will have a blizzard of new material after becoming stuck in New York during this week's "bomb cyclone".
James Acaster, Ed Gamble, Lloyd Langford and John Robins have catalogued the trials and tribulations of their enforced exile in the Big Apple.
The group had gone to New York together to see in the new year, posting pictures of their escapades on social media.
But the larks stopped on Thursday when it became apparent they would not be leaving the city in a hurry.
After struggling to get in touch with anyone to rebook their flight, Ed Gamble took to Twitter to vent his irritation.
Skip Twitter post by @EdGambleComedy
.@AmericanAir My flight tomorrow to LHR from JFK (142) has been cancelled. I've been on hold for 25 minutes and the call has just been hung up. We have nowhere to stay and the only flight you have suggested via email is on Monday and takes 20 hours. Please contact me ASAP.

— Ed Gamble (@EdGambleComedy) January 5, 2018
End of Twitter post by @EdGambleComedy
American Airlines tried its best to placate the apoplectic Gamble with a smattering of sarcasm, writing: "We wish Winter Storm Grayson would take it a bit easier on us too, Ed. We'll take it up with Mother Nature."
Unfortunately Gamble did not see the funny side, saying the "quirky" tweet was unhelpful.
The delay was especially vexing for 2017's Edinburgh Comedy Award co-winner John Robins, who was supposed to co-present a regular show on Radio X on Saturday, with Welsh comedian Elis James.
Robins – who recently came second in Celebrity Mastermind, answering questions on Queen – took to Twitter, using the hashtag #GetRobinsHome.
He said: "I am on the same flight as Ed and would like you to sort us out so I can broadcast commercial digital indie to the nation."
His co-presenter Elis James – who is in the UK – joined the campaign, claiming he was in discussions with Downing Street to get Robins home to fulfil his obligations.
But competitive rivalry got the best of some of Robins' peers, including Eight Out of Ten Cats team captain Rob Beckett.
The comedian, who presents a rival show on Absolute Radio, was relishing the lack of competition.
Fans of the comedians have tried to lift their spirits with some personalised film posters, highlighting their plight.
Unfortunately, even with Robins flexing his commercial digital indie radio muscles, he did not get the desired result. And like Macaulay Culkin before them, the group found themselves lost in New York.
Josh actor Elis James was instead joined by his sitcom housemate Josh Widdicombe on Saturday afternoon's show.
Widdicombe questioned whether Robins was actually stranded, or whether it was a PR stunt to get more Instagram followers.
Elis James said: "Why didn't he get the boat? Is there not an overnight Atlantic service?"
Who are the stranded comedians?
James Acaster: The actor and comedian is a regular on BBC panel show Mock the Week. He has also appeared in BBC Three sitcom Josh, and written the comedy pilot We The Jury. In 2017 he released Sunday Times best-selling book Classic Scrapes.
Ed Gamble: The diabetic comedian first came to prominence in a double act with funny man and podcaster Ray Peacock. Since then he has become a regular at the Edinburgh Fringe, and played aristocrat Georgie in faux-reality show Almost Royal.
Lloyd Langford: The Welsh comic is a regular on a slew of panel shows, and also a prominent voice on the radio. He has appeared on Radio Four's The Unbelievable Truth, and the BBC television show Ask Rhod Gilbert.
John Robins: The Bristolian has been a regular on the comedy circuit since 2005. His successful collaboration with Elis James on Radio X has earned them a Chortle Comedy Award. His 2017 comedy show The Darkness of Robins – about his breakup with fellow comedian Sara Pascoe – won him the Edinburgh Comedy Award, alongside Hannah Gadsby. He is a lifelong Queen fan.
You may also like:
Cabin fever seems to have set in with the group, after an article on comedy website Chortle about the situation gave John Robins top billing.
James Acaster wrote: "All comedians have had the chat 'if this plane crashed which one of us would be the headline?' And may I be the first to say I can't believe this."
The headline provoked the ire of Ed Gamble, who claimed Robins got drunk while the Mock the Week regular "sorted emergency accommodation".
It seems, for the time being, Robins is out in the cold with his pals.