Cocaleros de Cochabamba give Áñez 48 hours to resign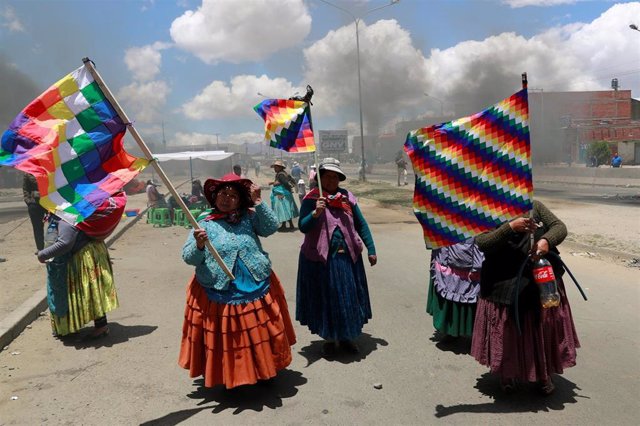 Supporters of Evo Morales in El Alto, Bolivia – REUTERS / HENRY ROMERO
MADRID, Nov. 17 (EUROPE PRESS) –
The Coordinator of the Six Federations of the Tropic of Cochabamba, related to former President Evo Morales, has called Jeanine Áñez, self-proclaimed interim president of Bolivia, to resign within 48 hours.
The coca growers have agreed in open town hall held on Saturday night in Sacaba, Cochabamba, to demand the resignation of Áñez and the "immediate withdrawal of the Armed Forces to their military units to avoid further deaths and massacre of the Bolivian people", after the Death of nine protesters on Friday in this same town of Sacaba, a "dictatorial massacre" attributed directly to Áñez.
In addition, they call for the "immediate release of those unjustly detained, including democratically elected leaders and authorities" and the "approval of a short law by the Plurinational Legislative Assembly that guarantees national elections within 90 days."
In addition, the cocalero leaders have rejected the Supreme Decree that authorizes the military to respond to armed attacks and guarantees them judicial immunity and asked for respect for the indigenous flag, the wiphala.
The Coordinator also announced that it maintains "the blocking of roads, interdepartmental and interprovincial roads nationwide indefinitely until the demands are met."
They also ask the "competent authorities and the international community" "to intervene so that they immediately investigate and punish the intellectual and material authorities of the Huayllani Bridge massacre in the town of Sacaba." And finally they demand "respect for our companions of pollera".
Coca growers are currently parapeted in Sacaba, a neighboring municipality of Cochabamba, after security forces prevented them from crossing the bridge that leads to Cochabamba on the road to La Paz.