Club 18-30: Are millennials responsible for its downfall?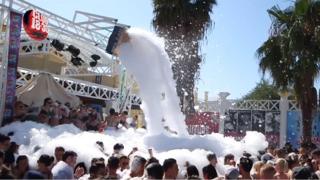 At the beginning of the 21st Century, 110,000 young British people were going on Club 18-30 holidays each year, bringing in £48m in sales annually. But less than two decades on, the brand's appeal is waning, with parent company Thomas Cook admitting it is open to selling.
Thomas Cook blames the rise of "ego travel" and Instagram for driving young people away from cheap package clubbing holidays and towards more photogenic travel opportunities.
More than half of 18-24 year olds asked in the report said they considered potential social media posts when booking a holiday.
Foam parties are out, it seems, and staring at the idyll is in.
But are millennials really to blame for the decline of Club 18-30 and, if so, what do they want instead?
The "diversification" of options is a key factor, argues Emma Brennan of the Association of British Travel Agents, who says city breaks are now more popular than beach holidays among both 18-24 year olds and 25-34 year olds.
"Young people are increasingly looking for specialist trips," she says, "that could be a festival, something more adventurous, or a city break."
On the role of sites like Instagram, Ms Brennan adds: "People are more interested in the design of where they live and work and that's reflected in their holiday choices."
Travel blogger and photographer Claire Menary argues social media is opening people's eyes to previously unknown possibilities, describing Instagram as "a never-ending source of wanderlust".
"You're constantly being exposed to so many incredible accounts," she says, "all providing endless travel inspiration so it's hard not to get carried away and add countless countries to your travel list.
"I think young people are wanting more freedom when it comes to choosing and organising their holidays so are breaking away from the package holidays and, in particular, the Club 18-30 kind."
But social media is not just a source of inspiration, Ms Menary argues, it is a cultural CV where people can showcase their tastes.
"People love to document their experiences because it is, in a way, a form of showing off where they've been and what they've done," she continues.
"Not necessarily in a bragging, crass way, but just to portray yourself being well-travelled and cultural."
'Attitudes have changed'
It is hard to consider the decline in popularity of clubbing holidays separately from the destinations on offer.
Club 18-30 customers can choose from places such as Magaluf, Zante, Kavos and Ayia Napa.
Ayia Napa, like 18-30, was booming around the turn of the century after underground music such as UK garage turned a Cypriot fishing village into the place to go for a generation of Brits.
Nick Power was a DJ and club owner there for more than a decade and is credited with bringing about its transformation into a popular holiday scene.
But Ayia Napa does not hold the appeal it once did and Mr Power believes social media has changed young people's approach to holidays – highlighting dating apps as having shifted social behaviour abroad.
"Attitudes have changed a lot since back then – the way young people connect with each other has played a big part in this," he says.
"Back then you'd have to go out to meet a girl, ask her out for a date and have a drink. These days that doesn't happen – people get together on dating apps. That's made a huge change to people's holidays."
'Best time of my life'
Ash Moore was an 18-30 rep and then a manager between 1999 and 2004, working in Gran Canaria, Benidorm, Tenerife and Zante.
He describes his work there as "the best time of my life" – but feels the brand has now "died a natural death".
"At the time, lots of people just wanted everything done for them but now it's so easy just to do it yourself," he says.
Mr Moore agrees that technology and social media has played a part in the decline – but says the "unfashionable" name is the most important factor.
"People are much more aware now, it's not something they would put on Facebook – it might actually be looked down upon by their mates if they're 18 or 19," he says.
"It's just the name – the name itself has died a bit of a death, it's fallen out of fashion."
So, could Club 18-30 live on under a different name? It has, after all, been rebranded once already during its 48-year existence, when it was relaunched as The Club in 1991.
"I wouldn't be surprised if it goes full circle and in a couple of years something under a new name is launched," adds Mr Moore.
"It was an amazing company to work for and it made me into the person I am today."