Clinton urges return to power sharing at Stormont
The former US President, who will today receive the Freedom of Belfast for his peace-making, urged politicians to restore power-sharing in Northern Ireland.
He told an audience in Dublin: "The Irish peace was born out of weariness of children dying and of lost chances.
"The further you get away from that, the easier it is to take the absence of bad for granted and to live in this purgatory we are in now."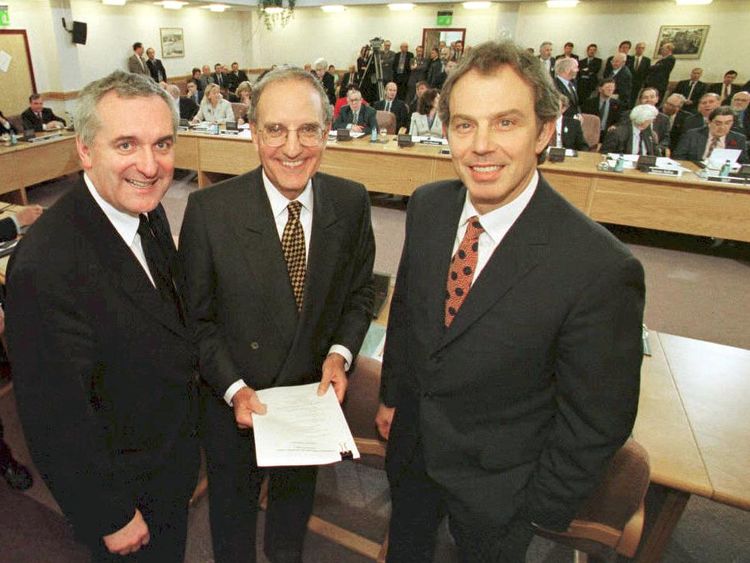 Northern Ireland had endured 30 years of violence, leaving 3,600 people dead, when the IRA and loyalist paramilitaries declared ceasefires in 1994.
Four years later, the Belfast Agreement under-pinned the fragile peace by establishing a power-sharing administration in Belfast.
But the devolved government collapsed 15 months ago and efforts to restore it have so far proven unsuccessful.
The 1998 Agreement was the culmination of two years of political negotiation, chaired by President Clinton's peace envoy, the former US Senator, George Mitchell.
"It was moment of elation, of exhaustion. I hadn't slept for a couple of days. Negotiations had been very difficult and intense," said Senator Mitchell.
"It was a feeling of great relief. It was a very close-run thing. It wasn't until the last moment we were able to get assurance that all of the parties would agree."
Former President Clinton and former Senator Mitchell will both receive the Freedom of the City in a ceremony at Belfast City Hall.
Tony Blair and Bertie Ahern, the British and Irish Prime Ministers at the time, will also participate in events marking the anniversary.
The people in Northern Ireland voted 71% 'yes' in a referendum on the ground-breaking compromise.
Former Ulster Unionist leader David Trimble and John Hume, former leader of the nationalist SDLP, won the Nobel Prize for peace for their part in it.
Former President Clinton, who had called party leaders from the White House during the final hours of negotiations, said there had never been an agreement quite like it before.
"When it happened, people around the world had to stop and think, well I don't want my children to grow up with all this violence either."