Clean air plan 'ambitious but vague'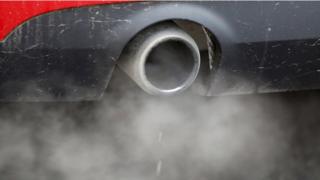 The number of people exposed to high particle pollution will be halved by 2025 if government plans are realised.
There will be an attempt to curb smoke from solid fuel fires and wood-burners; pollution from diesel machinery will be reduced.
Farmers, who have largely evaded pollution controls so far, will be told to buy new equipment to reduce ammonia from slurry.
Campaigners welcome the consultation, but say it doesn't go far enough.
They accuse the government of passing on tough decisions to local councils.
The government has been obliged to publish this Clean Air Strategy under an EU rule. It's in addition to the legislation which has seen the UK taken to court over high levels of nitrogen dioxide pollution.
Ministers estimate that their plans will reduce the costs of air pollution to society by an estimated £1 billion every year by 2020, rising to £2.5 billion every year from 2030.
They describe air pollution as the fourth biggest threat to public health after cancer, obesity and heart disease.
The Environment Secretary Michael Gove said: "Air quality has improved significantly since 2010 but sixty years on from the historic Clean Air Act a clear truth remains – air pollution is making people ill, shortening lives and damaging our economy and environment.
"This clean air strategy sets out the comprehensive action required across all parts of the government to improve air quality."
New powers
All EU nations will have to submit similar plans to cut pollution but Mr Gove says the UK's policies will be carried out beyond Brexit.
The planned legislation will give new powers to local councils to tackle bad air quality. Some councils welcome this approach whilst others think they're being left to do the government's dirty work.
Campaigners are pleased, though, that the plan will be embedded in new primary legislation.
They applaud the decision to halve the number of people in the UK exposed to levels of particulates above the World Health Organization limit of 10 microgrammes/m3.
But they say the consultation document so far doesn't say how the government will deal with the on-going problem of NOX emissions from cars.
Alison Cook from the British Lung Foundation said: "We can't lose focus on transport as a main culprit for pollution."
Critics also accuse ministers of passing the buck to local councils.
Doug Parr from Greenpeace told BBC News: "The ambition is impressive – but how is it going to be achieved? Lots of councils simply don't have the resources to deal with these issues."
The government has avoided other potentially controversial decisions. The document promises that only the cleanest of solid fuels will be allowed to heat people's homes.
No ban
But a Defra spokesman told BBC News that open fires, coal-burning and wood-burning would not be nationally banned.
Instead, new stoves – including wood-burners – would have to be cleaner. And people would also be encouraged to burn dry wood, because it emits fewer particulates.
Mr Parr said this was far too vague: "Will hard-pressed environmental health officers really be checking on wet wood in forecourts?" he asked.
Meanwhile, farmers will be supported to cut ammonia emissions through the proposed new farming funding system known as public money for public goods.
One technologically-difficult issue is also acknowledged – the contribution to microplastic air pollution and water pollution from vehicle brakes and tyres wearing on the road. The government says it will work with international partners to research and develop new standards.
Sue Hayman MP, Labour's Shadow Environment Secretary, said: "Michael Gove has become the Secretary of State for Consultations – with over 25 consultations published by his department since the General Election and not a single piece of primary legislation brought forward."
Green Party co-leader Caroline Lucas said: "It's good to see a strategy finally published – but the details of this plan look extremely underwhelming. The Government is using a water pistol to put out the air pollution wildfire."
Follow Roger on Twitter.