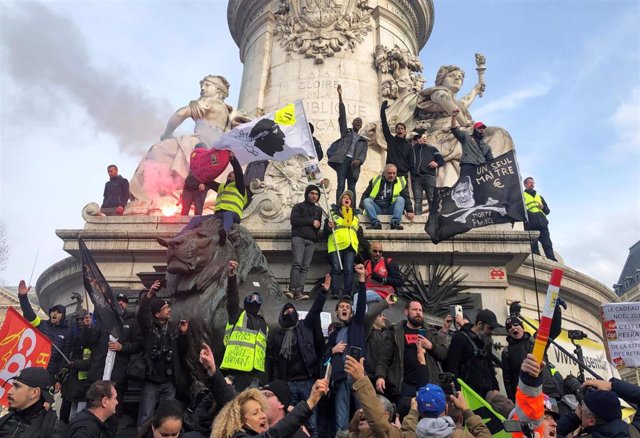 Protest against pension reform in Paris – REUTERS / REUTERS STAFF
The Government underlines its "total determination" to carry out the project despite union complaints
PARIS, Dec. 17 (EUROPE PRESS) –
French security forces have launched tear gas to repress a group of protesters concentrated in Paris against the pension reform plan promoted by the Government, in a new day of mobilizations that has also resulted in incidents in other locations such as Nantes .
Moderate unionism has also called for mobilization, initially defended by more radical organizations. On December 5, the unions managed to mobilize more than 800,000 people and paralyze part of the transport, which remains the main sector affected by the indefinite strike started almost two weeks ago.
Civil aviation authorities have urged airlines to cancel flights, while operators have recommended their clients to postpone their trips whenever possible. For next weekend, 50 to 60 percent of trains are expected to circulate, according to Franceinfo.
The strike has also been noticed in emblematic monuments such as the Eiffel Tower, closed again to tourists, or in public education, where unemployment monitoring is estimated at 24 percent, according to a balance of the Ministry of Education.
The General Confederation of Labor (CGT) has put 350,000 attendees at the march on Tuesday in Paris, above the balance sheets released in previous concentrations. The mobilization, however, has been marred by a series of clashes between protesters and police, which have loaded with tear gas and stunning grenades near the Nation Square.
The French Prime Minister, Edouard Philippe, has affirmed before the National Assembly that the trade union mobilization is "perfectly legitimate", but has made it clear that there is a "total determination" by the Government to carry out its project.
Among the changes contemplated in the reform is to raise the minimum age to receive the totality of the pension and the unification of the more than 40 current regimes from a single general system from 62 to 64 years, although the Government must still state all the details of his controversial initiative.