Clashes in La Paz in a new day of "indefinite unemployment" against the reelection of Morales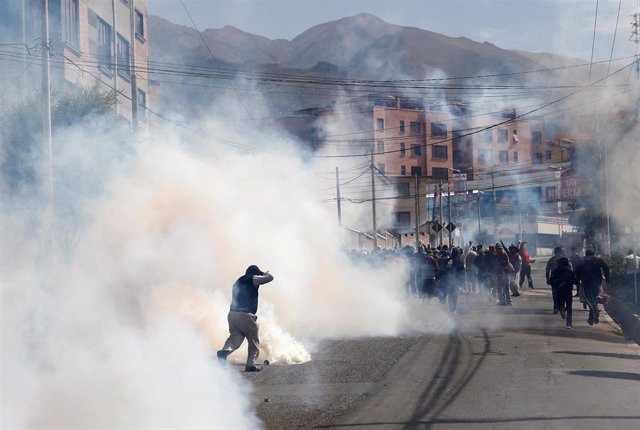 Riots in La Paz after the re-election of Evo Morales – REUTERS / KAI PFAFFENBACH
MADRID, Oct. 29 (EUROPE PRESS) –
La Paz has suffered on Tuesday a new day of "indefinite unemployment" announced by the Bolivian opposition to combat the re-election of Evo Morales, in which there have been clashes between protesters and transporters and police charges.
The "indefinite strike" has resulted in blockage of streets and roads and pickets at the doors of shops and markets that have continued on Tuesday, according to the Bolivian newspaper 'Los Tiempos'.
On Zavaleta Avenue, carriers have confronted protesters who close the passage with stones and sticks, leaving some injured. Hours later, some 200 students from the Universidad Mayor de San Simón (UMSS) have arrived at the site to reinforce the blockade, which has unleashed an even greater confrontation between the two groups. Police have intervened with tear gas to separate them.
During the night there have been strong clashes between supporters and detractors of Morales in Santa Cruz, an opposition stronghold, which have left at least 30 injured, including a man with a gunshot impact. The last hours have also been tense in Cochabamba, according to 'The Duty'.
The protests broke out on October 20 because of the sudden suspension of the transmission of the results of the presidential elections held that day just when they forced a second round between Morales and the opposition candidate Carlos Mesa.
The end of the scrutiny has awarded the victory in the first round to Morales, but Mesa believes that the official results are the result of a "gigantic fraud." At first, he claimed a second round but now directly calls for the annulment and repetition of the presidential elections.
In this week, both sides have called for the mobilization of their supporters, which has resulted in clashes in the streets and burning of electoral courts. Morales has agreed to audit the votes with the presence of international observers.