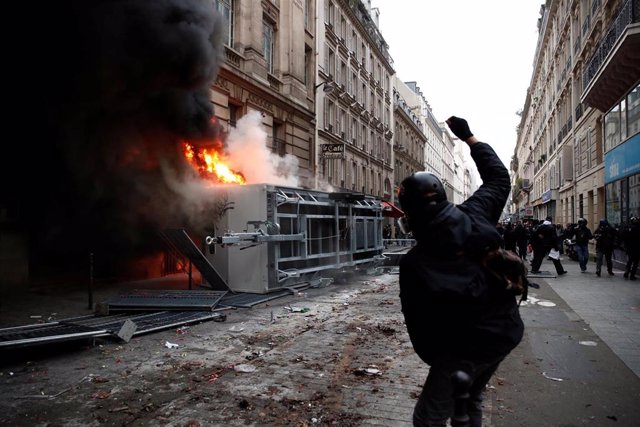 Riots during protests in Paris – REUTERS / GONZALO FUENTES
Unemployment causes cancellations and delays in transport systems
PARIS, Dec. 5 (EUROPE PRESS) –
The indefinite strike called on Thursday by several unions against the pension reform promoted by the French president, Emmanuel Macron, has taken thousands of people to the streets in about thirty cities, including the capital Paris, where there have been clashes between radical protesters and security forces in the afternoon.
The Police have launched tear gas to contain a group of people who had perpetrated violent acts in the immediate vicinity of the Republic Square. There have also been incidents in Nantes, where protesters have thrown objects at the agents.
The Police have estimated part-time that more than 180,000 people had joined any of the mobilizations convened at the national level, although the figure was prior to the large concentration convened for the afternoon in Paris. The authorities, in addition, have put in 65 the provisional number of detainees throughout the country, according to the station Europe 1.
The Paris metro has barely operated under minima, as has the rail service, in which only one in ten long-distance trains has circulated. The state-owned company SNCF expects that train traffic will also be affected on Friday, with cancellations at a level similar to Thursday's.
For its part, the civil aviation authority has confirmed on its Twitter account the cancellation of 20 percent of flights at major airports in the metropolitan region of Paris and at several regional airfields.
Unemployment has also been noted in the education system, as almost half of the teachers have seconded the union appeal, according to data from the Ministry of Education. The Eiffel Tower, one of the most visited monuments in all of France, has closed its doors, as has the Orsay Museum in Paris.
Social mobilization derives from the pension reform proposed by Macron, which aims to unify the more than 40 schemes currently contemplated by a single framework that, according to the president, would favor equality among workers.
Among the concerns expressed by the unions is that the calculation of pensions is made by virtue of the income earned throughout working life and the suspension of early retirement plans for officials such as public transport workers and medical personnel, although the Government has not yet You have completed your project.