Claims of 'illegal' adoption at former Marianvale home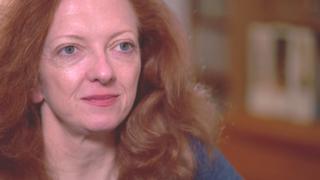 A BBC investigation has uncovered allegations of 'illegal' cross-border adoptions at a home run by Catholic nuns in Northern Ireland.
Evidence suggests some children may have been moved out of the UK without their mothers' consent from Marianvale mother and baby home in Newry.
One woman was issued with three birth certificates in three countries.
The Catholic Good Shepherd Sisters said adoptions were "conducted strictly in accordance with the legislation".
One of the three birth certificates issued as part of Karen Trimnell's adoption to the USA contained many false details.
The Marianvale mother and baby home in County Down operated between 1955 and 1984.
It was one of a network of institutions in Northern Ireland and the Republic of Ireland, which offered women the voluntary option for unmarried women to give birth in private and give their babies up for adoption.
However, File on 4 has heard claims that some adoptions were not voluntary and uncovered evidence that laws may have been broken.
These include falsified details on official documents. Campaigners claim this may have been to facilitate the illegal movement of babies across state borders.
Karen, 49, an English teacher in New York, was born in 1968.
Her mother travelled to Marianvale and gave birth at a nearby hospital. Karen believes she was moved illegally from Northern Ireland to the Republic of Ireland – where she was cared for by another Catholic order – before being adopted by a couple from Texas in the USA.
Three certificates
Karen's concerns are based on a stash of documents charting her early life which she passed to File on 4.
They revealed that she had been issued with a birth certificate in Northern Ireland which correctly recorded all the details of her birth.
But two days earlier, another birth certificate had been generated for her in the Republic of Ireland containing false information, including changing her date and place of birth as well as listing her future adopted parents as her natural parents.
It is not clear who was responsible for submitting this false information to the register.
Karen's birth was then registered for a third time when she arrived in the USA and she is concerned that laws were broken to facilitate an adoption for a couple who were becoming too old to adopt in America.
"They died when I was a teenager and that was going to have an effect on anybody's life," she said.
"And the fact that their health and age was overlooked because of the desire of the people who ran the orphanage, I don't think is justifiable or acceptable."
The BBC has also seen the adoption consent form signed by Karen's birth mother which agreed she could be taken into the care of a Catholic adoption organisation in the Republic of Ireland.
This document appears to have been signed after the falsified birth certificate in the Republic of Ireland had been created.
At the time a baby could only be moved from Northern Ireland to the Republic of Ireland following a court order or with the express consent of the mother.
Toni Maguire, an archaeologist and anthropologist, believes Karen may have been taken illegally to the Republic of Ireland before her mother had consented to it.
"If you are taking a baby from one country basically to another country, I would call it trafficking," she said.
"If you then are giving that child or allowing that child to be adopted, how do we deal with that? Is that illegal?"
The BBC has discovered that Karen is one of scores of babies who were born at Marianvale and taken out of Northern Ireland for adoption.
File on 4 accessed the home's baptism book, which revealed extensive movement of babies and women across state borders.
The ledger contained details of more than 800 babies born to Marianvale women.
The BBC has established at least 25 babies left Northern Ireland, mostly going to families in the Republic of Ireland, but at least two went to the USA.
Meanwhile, at least 120 women came from outside Northern Ireland to Marianvale, from as far afield as Fife, London, Plymouth and Manchester.
Patrick Corrigan, of Amnesty International, said: "This now cries out for a thorough, independent investigation and I think what will certainly need to happen is that there is a strong cross-border cross-jurisdictional dimension to any investigation into what happened in Northern Ireland."
In response, the Sisters of Our Lady of Charity of the Good Shepherd said: "We utterly reject any suggestion that illegal adoptions were conducted from Marianvale.
"All adoptions were conducted strictly in accordance with the legislation which then applied.
"Some women did not proceed with adoption, as was originally planned, and with the support of families, took their babies home."
The Lost Children of Marianvale is broadcast on BBC Radio 4 on Tuesday 22 May at 20:00 BST. You can also catch up on the BBC iPlayer.
Have you got something you want File on 4 investigating? Email us: fileon4@bbc.co.uk or follow us on Twitter.