Christine Lampard 'stalker tweets' were 'sinister and dark'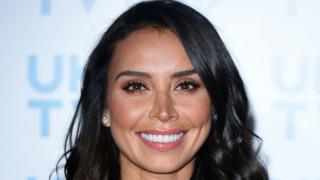 TV presenter Christine Lampard has described tweets allegedly sent to her by a stalker as "sinister and dark".
Christof King, 39, of Mowbray Road, Brent, pleaded guilty to stalking last week but disputes sending the tweets.
He sent letters and turned up at the house she shares with footballer husband Frank Lampard on more than one occasion.
A Newton hearing is being held at Isleworth Crown Court to decide whether or not King sent the tweets.
Speaking from behind a curtain, pregnant Mrs Lampard said the "disturbing" tweets caused her so much concern she showed them to her husband.
Mrs Lampard said several tweets were "incoherent waffle", with some tagging her employer ITV and her husband.
"Several tweets became quite sinister and dark," she added.
She said these tweets made her pay attention, adding that another reason she noticed his tweets was because "there was so many of them".
One tweet he is alleged to have sent said: "I can hear the scratch of nails as I sharpen them ahead of your crucifixion."
The court heard another tweet said: "I am planning the words that will go on your gravestone."
'Not normal'
Mrs Lampard said her biggest concern was that she worked predominantly on live TV, meaning it is not too difficult to figure out when she will be leaving her workplace.
Talking about the letters sent by King, Mrs Lampard said: "I felt very uneasy with the letters. Incredibly odd, including one written to my dog.
"But, it was this sense that he felt a certain destiny to talk to me which is clearly not normal."
The court heard about the time the TV star was at her home with her husband when they heard a knock at the door.
Their housekeeper answered and told the couple that a Christof was at the door and asking for them.
Mrs Lampard explained that her husband works with a Christof and thought it was him.
As they approached the front door, Mrs Lampard said she recognised him as "the man from Twitter".
The hearing continues.