Chris Froome 'completely backs' Team Sky boss Sir Dave Brailsford after doping report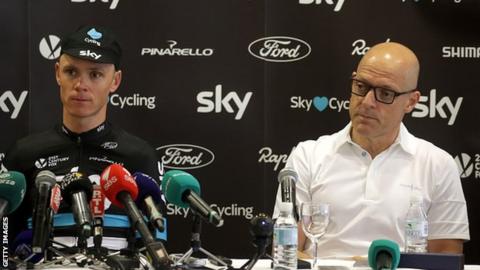 Four-time Tour de France champion Chris Froome says he completely backs Sir Dave Brailsford staying on as Team Sky principal after he was criticised in an MPs' report.
A select committee report published this week said Team Sky "crossed an ethical line" by using drugs to "enhance the performance of riders" instead of for solely medical need.
It said Brailsford must "take responsibility for these failures".
Asked if he completely backs Brailsford remaining in his role, Froome told BBC Sport: "Yes I do."
Froome, 32, is competing at the Tirreno-Adriatico stage race in Italy, his second event since his adverse drugs test was made public in December.
Speaking before the start of stage three in Follonica on Friday, Froome said Team Sky had "evolved" since its early years that are the focus of the report.
"From the conception of the team back in 2010, there have been a lot of things that have changed, a lot of procedures and checks that have been put in place since then," said Froome.
Monday's Digital, Culture, Media and Sport (DCMS) report said Team Sky used the anti-inflammatory drug triamcinolone to prepare Britain's most decorated Olympian Sir Bradley Wiggins and a smaller group of riders for the Tour de France, which Wiggins won in 2012.
Asthmatic Wiggins was granted therapeutic use exemptions (TUEs) to take the corticosteroid, which can treat allergies and respiratory issues, shortly before the 2011 Tour de France, his 2012 Tour win and the 2013 Giro d'Italia.
Team Sky "strongly refute" the allegation and Wiggins told the BBC he is "100%" not a cheat.
The report said Brailsford must also take responsibility for "the damaging scepticism about the legitimacy of his team's performance and accomplishments".
Brailsford is not with either of the Sky teams at Tirreno-Adriatico or Paris-Nice in France, two of the most prestigious early season stage races.
Froome 'well on track' for Giro
UCI president David Lappartient told BBC Sport on Wednesday "it would have been better" for Froome not to ride while he explains to cycling's world governing body how he returned double the allowed level of legal asthma drug salbutamol in his urine during his Vuelta a Espana victory in September 2017.
On Thursday, Froome reiterated his intention to ride the Giro d'Italia, which starts on 4 May.
"The first big goal for me this year is the Giro. I'm well on track for that but I'm still not at my best yet," he said.
Lappartient said a decision on Froome's case was unlikely before the Giro starts but that it would be a "disaster for the image of cycling" if the Briton rode the Tour in July with the case still unresolved.
"Given his concern for the reputation of the sport, it would be more sensible of him to raise his concerns in person or at least though the right channels as opposed to through the media," Froome told Cycling News on Thursday.
Froome opted against taking a voluntary suspension when he was told of his adverse finding in September 2017.
At his first race of the season, the Ruta del Sol in Spain in February, he said the case is "not going to go any faster if I was sitting at home".
At Tirreno-Adriatico, Froome said his understanding of World Anti-Doping Agency (Wada) rules was that any results achieved between the Vuelta and the date of a verdict in his case would stand.
It means Froome could race and win the Giro and the Tour but not be stripped of the titles if he were to receive a ban, as it would start from the date of the verdict.
Any suspension would see Froome stripped of his Vuelta title, given the adverse test was returned during the race, which ran from 19 August to 10 September.
Froome won team and individual time trial bronze at the World Championships in Norway later in September.