Choquehuanca, possible presidential candidate of the MAS, promises to fight for peace in Bolivia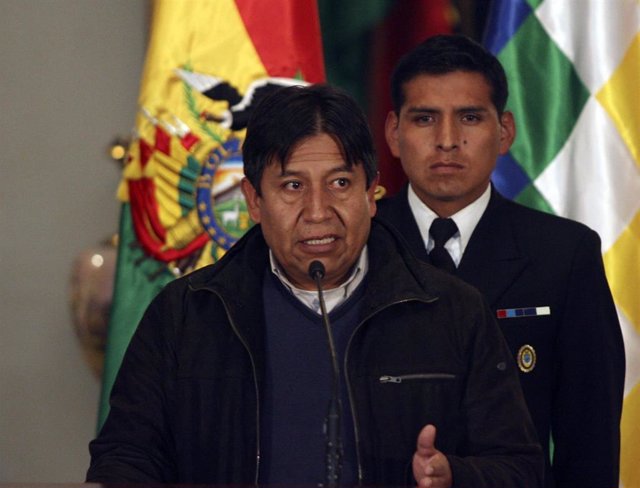 David Choquehuanca – GASTON BRITO / REUTERS – Archive
MADRID, Dec. 23 (EUROPE PRESS) –
The Bolivian former Foreign Minister David Choquehuanca said Monday that he is willing to be a presidential candidate of the Movement for Socialism (MAS) and that, if he is, he will fight for the peace and unity of his country.
"In case the bases decide that I am a candidate, I will accept it … We don't have to continue deepening polarization, we have to fight against individualism, self-centeredness, anthropocentrism and Eurocentrism. In Bolivia we are in a process of recovery of our knowledge. We have to work for the culture of peace, "said Choquehuanca in an interview with the Russian news agency Sputnik in Montevideo.
Choquehuanca has stressed that political leaders have to work for the peace, unity and brotherhood of the people. The leader added that a leader has to build a complementary society, seeking the happiness of the people instead of economic development.
"In addition, we have to start the Pachakuti process, which means opening our eyes to a messy world that is experiencing a global crisis of capitalism that generates poverty, environmental, energy, values ​​and institutional crisis. Pachakuti says open your eyes. We cannot continue as we are, "he has argued.
The former chancellor said that citizens and leaders need to listen to each other. "After Pachakuti, we have to talk about the ideology of peace, which means it's not me, it's us, which implies the death of egocentrism, anthropocentrism and Eurocentrism," he added.
On the other hand, Choquehuanca has indicated that during the MAS Government there were acts of corruption that cannot be ignored, so your party must begin a process of self-criticism to "open your eyes." "If you see our public administration we will find acts of corruption and we do not have to close our eyes in front of that. We must not only see what we like. Commander (Venezuelan) Hugo Chavez said that bureaucracy and corruption are counterrevolutionary operations within a revolutionary process, "said Choquehuanca.
The former chancellor said that his party has made several mistakes and that the first is not to have touched the state bureaucracy. "We have come to the Government not to efficiently administer the model we have inherited. We have come to change. The bureaucracy is one of the issues that must be changed because it harms any revolutionary process … as in all parts of the world, there are corruption that damages any revolutionary process, we have to be self-critical, "he explained.
The MAS has not yet designated who will be a candidate for the presidency after its leader, former president Evo Morales will flee the country after resigning under pressure from the Police and the Army. Morales has resigned to be a candidate, but on December 7 he was elected campaign manager for the next elections that seek to normalize the political situation in the Andean country.
Choquehuanca would be one of the favorites to win the MAS candidacy, since it has support in Santa Cruz (east), La Paz (west) and Cochabamba (center), but other names are also considered, such as that of the young Andronic militant Rodriguez
On December 29, the MAS leadership will meet in Buenos Aires to define how and when the candidates will be appointed for the next general elections.
Choquehuanca, who was leader of the Single Trade Union Confederation of Peasants of Bolivia and the Indigenous Peasant Movement, was born on May 7, 1961 in the Aymara community of Cota Cota Baja, in the department of La Paz. He learned to speak Spanish at age seven and before communicating only in Aymara.