Chingford fire: Resident dies in care home blaze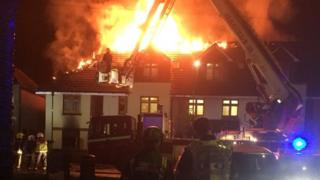 A resident has died in a fire which broke out at a home for people with learning disabilities.
The huge blaze started in Connington Crescent, Chingford, north-east London, at 02:14 BST and was out by 05:24.
Eight residents and four carers managed to get out of the three-storey block before firefighters arrived.
When the ten fire crews arrived, two floors and the roof of the building were alight, London Fire Brigade (LFB) said.
Paramedics treated the woman but she was pronounced dead at the scene.
A further 16 people were evacuated from neighbouring properties before firefighters arrived.
At its height, more than 70 firefighters – from Woodford, Chingford, Walthamstow, Enfield and Leytonston fire stations – were sent to tackle the blaze.
Richard Jansen, station manager for Chigwell, said care home staff were "desperately trying to evacuate the building".
He added: "The initial [999] call did come from a neighbour."
Mr Jansen said specialist fire investigators in the building "are working in close liaisons with the police officers to find out what the cause of the blaze is and what the circumstances were which led to this tragic fatality".
At the scene: Greg McKenzie, BBC Radio London
When I arrived at Connington Crescent there were a lot of fire engines and police officers in the area – and I could see eight residents standing outside before they were taken away.
The smell of smouldering smoke still lingered in the area until about 07:00.
As the morning got lighter, you could see the damaged roof of the care home which is completely gutted.
Staff I have seen are visibly shaken and upset, while nearby residents have told me about how shocked they are with the fatality.
LFB station manager Keith Williams said firefighters "have been working hard to contain the spread of the fire which has destroyed the roof".
"Crews expect to be here into the day, tackling hot spots," he added.
Local MP Iain Duncan Smith has described the death as a "terrible tragedy".
The former Conservative Party leader added: "My heart goes out to victims."
One local resident, who works at another care home, said: "It is a big concern because you do worry about your actual residents more than you do for yourself and try to get them out.
"So it is extremely said news that someone has actually died."
The building contains two supported living services, Connington Court and Connington House.
The Care Quality Commission said the two homes, both run by Sequence Care Group, catered for "adults with learning disabilities who may also have autism, complex needs or behaviours that challenge services".