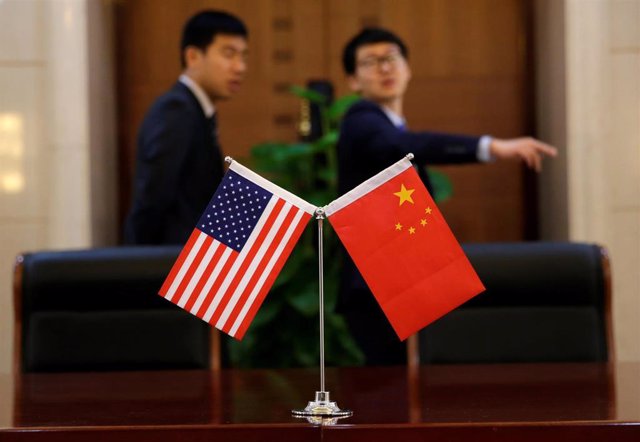 Flags of China and the USA. – REUTERS / JASON LEE – Archive
SHANGHÁI, Nov. 26 (Reuters / EP) –
The Ministry of Foreign Affairs of China has called on Monday the United States ambassador to the Asian giant, Terry Branstad, in protest to the approval by the US Congress of the project of the so-called Law on Human Rights and Democracy in Hong Kong , which supports the protests in the region.
Beijing, which has branded the measure to be a tool to interfere in the internal affairs of the country, has indicated that the Vice Minister of Foreign Affairs, Zheng Zeguang, has pressured Washington to "correct its mistakes and stop interfering in Hong affairs Kong and in China. "
Protests in Hong Kong broke out last June against a controversial bill of extradition to mainland China. The leader of the special Chinese administrative region, Carrie Lam, finally withdrew the bill but the demonstrations have continued with greater demands, including universal suffrage.
Protesters have expressed their dissatisfaction with what they see as an interference by China in the promised freedoms to Hong Kong when the former British colony came under Beijing's sovereignty in 1997.
The US Congress passed the bill last week, which is now pending ratification by President Donald Trump.
According to Zheng, the text is a way to boost violence and constitutes a serious violation of International Law. "China expresses its strong rejection of the measure and its complete opposition," he said.
China called on Trump on Thursday to leave the law because it sends "the wrong signal that it condones violent criminals." "Its essence is to destabilize Hong Kong and even destroy it," said Chinese Foreign Minister Wang Yi.
The law not only supposes a boost for protesters who have been demanding more openness in the former British colony for months, but also opens the door to possible sanctions against Chinese officials.
Hong Kong was once again in the hands of China under an agreement between Beijing and London that guaranteed the regime of rights and freedoms that the territory had enjoyed during British rule. The principle 'one country, two systems' has allowed the territory to fit into the country.