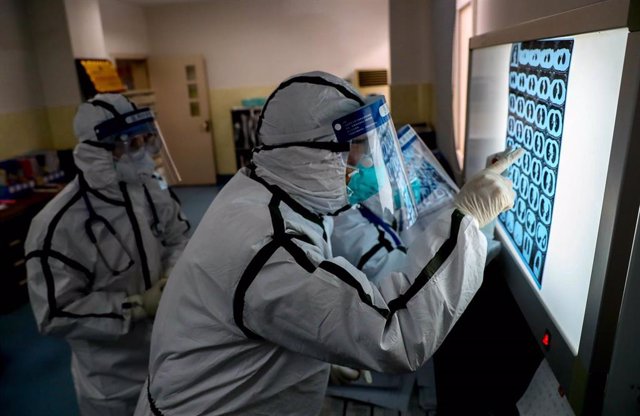 Doctors in a Wuhan hospital. – – / TPG via ZUMA Press / dpa
2,250 more doctors are needed
WUHAN (CHINA), Feb. 7 (Xinhua / EP) –
A total of 10,596 health workers have been sent to the province of Hubei, where the town of Wuhan is located, epicenter of the outbreak of the new coronavirus, to help control the epidemic, which has already left 636 dead and 31,161 affected in the Asian country
China sends more than 10,500 health workers to Hubei to control the coronavirus epidemic
Hubei has received 107 teams of doctors from 29 provinces, municipalities and autonomous regions of China, as well as the People's Liberation Army, said the vice governor of the Chinese province, Yang Yunyan.
However, Yang has specified that another 2,250 doctors are still needed, especially in the respiratory areas, Intensive Care and infectology.
To solve the shortage of health workers faced by Hubei due to the outbreak of the coronavirus, the region has encouraged local hospitals to re-hire retired doctors and nurses who are in good health.
Also, the central office for the control and treatment of the Hubei new coronavirus epidemic has requested more help from the Government of China, according to Yang.
Health authorities have detailed that on Thursday there have been 73 new deaths from the coronavirus, 69 of them in Hubei Province, one in Tianjin Municipality (northern China), one in the northeastern province of Heilongjiang and another in the southwestern province of Guizhou.
So far, a total of 1,540 people infected with the new coronavirus have been discharged from hospitals after they have recovered, as reported by the Chinese authorities.
Common signs of infection include respiratory symptoms, fever, cough and shortness of breath. In more severe cases, the infection can cause pneumonia, severe acute respiratory syndrome, kidney failure and even death.
In 2003, more than 600 people had died in China because of the outbreak of SARS or acute respiratory syndrome that was first detected in 2002, while the global figure reached 765 deaths.
473304.1.260.149.20200207071948