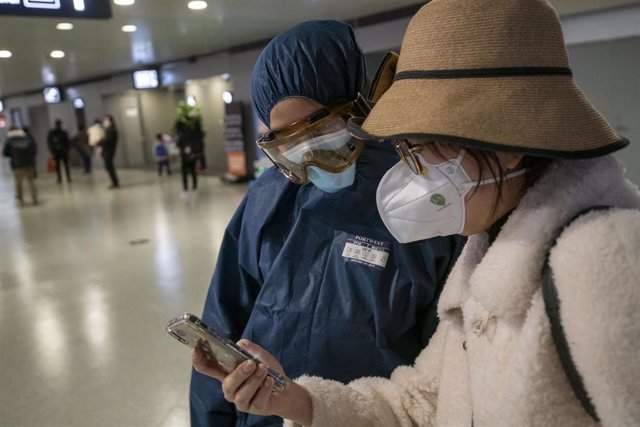 Image of two people in China with masks after the outbreak of the new coronavirus. – Dave Tacon
The injured amount to 37,198
BEIJING, Feb. 9 (Xinhua / EP) –
The Ministry of Health of China has raised this Sunday to 811 those killed by the outbreak of the new coronavirus and 37,198 those affected in the country, according to the latest data, which already outperform the victims by the outbreak of SARS.
China raises to 811 those killed by the new coronavirus, which already outperform the victims of SARS
Specifically, this Saturday 2,665 new cases of pneumonia caused by the new coronavirus and 89 deaths have been confirmed, 81 in Hubei Province, where the town of Wuhan (epicenter of the outbreak) is located in Henan, one in Hebei, in addition to Heilongjiang, Anhui, Shangdong, Hunan and Guangxi.
Health authorities have claimed that a total of 2,649 patients have been discharged after recovering from the virus by leaving 600 people in Chinese hospitals on Saturday, 324 in Hubei province.
In total, 3,916 new cases suspected of having the virus have been detected this Saturday and 87 people have become in serious condition, so they amount to 6,188. In addition, there are 28,942 people suspected of being affected by the new coronavirus.
In addition, the Ministry of Health of China has indicated that 371,905 people had close contact with affected people, although 31,124 have been discharged on Saturday while 188,183 remain under medical observation.
Although the epicenter of the coronavirus is in Wuhan, cases have been detected in other countries in Southeast Asia, Europe and America. The World Health Organization (WHO), which a week ago declared the global health emergency, has asked the international community to redouble its efforts.
Common signs of infection include respiratory symptoms, fever, cough and shortness of breath. In more severe cases, the infection can cause pneumonia, severe acute respiratory syndrome, kidney failure and even death.
This data exceeds that recorded due to the outbreak of SARS or acute respiratory syndrome that was first detected in 2002. In 2003, more than 600 people had died in China because of this virus, while the global figure reached The 765 dead.