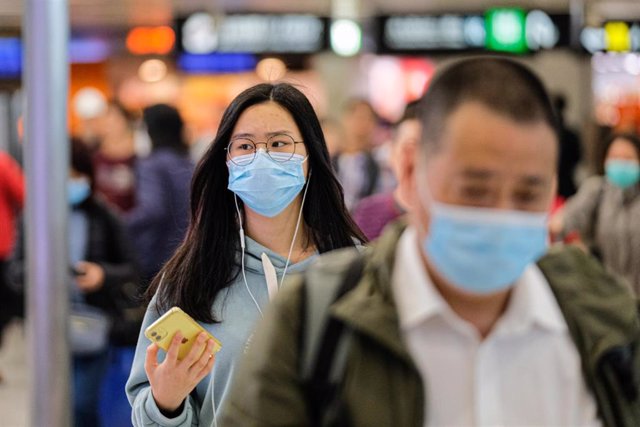 Hong Kong citizens with mask. – Keith Tsuji / ZUMA Wire / dpa
BEIJING, Jan. 24 (Xinhua / EP) –
The National Health Commission of China has raised this Friday to 25 those killed by the outbreak of the new coronavirus (2019-nCoV) and 830 confirmed cases, spread across 29 regions of the country.
China raises the dead by the new coronavirus to 25 and confirmed cases to 830
Of the confirmed cases, 34 have been discharged from the hospitals in which they were admitted. The commission has also reported that a total of 1,072 cases are suspected, registered in 20 provinces.
For its part, the outbreak, whose epicenter is located in the Chinese town of Wuhan, has spread to other countries. So far, there are records of two cases in Hong Kong, two in Macao and one in Taiwan. Three cases have been registered in Thailand, but two of them have already been cured. In addition, Vietnam has confirmed two, while South Korea, the United States and Singapore have registered one each.
In addition, a total of 9,507 people who have had close contact with infected people have been recognized. Of these, 8,420 are under observation and 1,087 have been discharged.
The World Health Organization (WHO) has resolved on Thursday that it is "too early" to declare the international public health emergency following the outbreak of coronavirus, although it has warned that in China it does constitute an emergency.
"Make no mistake. It is an emergency in China, but it has not become a global emergency yet. The outbreak is in great danger in China, as well as in the region," said WHO Director General Tedros Adhanom Ghebreyesus .
For its part, the Chinese Government has decided to close Wuhan completely. Flights and train lines have been canceled, as well as the bus and ferry service.
The new coronavirus is 80 percent similar to the acute and severe respiratory syndrome virus (SARS) that caused an outbreak in 2003 that affected 8,098 people and killed 773, mainly in China, according to information published by the National Data Center Genomics of China (NGDC).